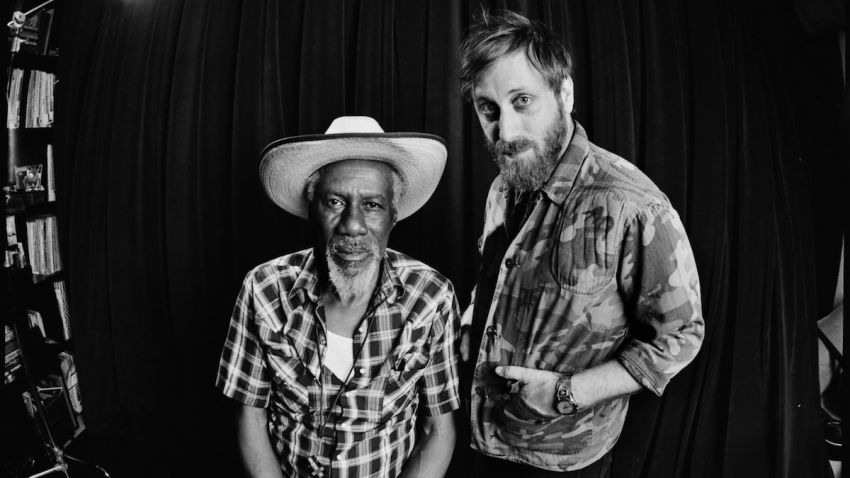 Robert Finley's life could be a Hollywood movie -- the kind of comeback story that everyone loves.
It started in Bernice, Louisiana, when Finley picked up a thrift-store guitar at the age of 11. After a career as a semi-professional performer and army bandleader during the '70s, Finley took to the streets as a busker and leader of Brother Finley & the Gospel Sisters.
Channeling his gospel roots, he found another, perhaps biblically inspired, calling: carpentry. Unfortunately, he was forced to call it quits when doctors determined he was legally blind.
Finley's future might have seemed rather bleak were it not for two things: faith and a non-profit organization called Music Maker Relief Foundation. In 2015, Music Maker discovered Finley busking in Arkansas and started sending him on international tours with other aging blues musicians. That's when he met the Black Keys' Dan Auerbach.
"It started with the Music Maker Relief Foundation. When I came back from overseas on tour, Dan wanted to meet me. Everyone was telling me how good of an opportunity it was. I did not know his music; it was all new to me. The first time I actually heard him perform was at a rehearsal just before we got ready to go on the road," Finley told me over the phone last month.
"I'm like a north Louisiana country boy, and he's a rock & roll man, and now we got it all in a big gumbo," he added.
Since meeting, Finley and Auerbach have only refined their recipe. In July, they released a joint soundtrack for a graphic novel called "Murder Ballads."
"I didn't know I was singing for the book until I actually met the author in the studio," Finley said.
"They had heard of me and they gave me the opportunity, but it was about being in the right place at the right time. The songs that he and his team wrote really pertained to my life and they didn't know anything about me. 'This is too good to be true,' I thought. But heaven intervened and made things possible," he said.
Following that, Finley released his newest album, "Goin' Platinum," which was produced and co-written by Auerbach.
"The greatest thing about this album is it fits in all categories. My faith is that it will live up to the name and go platinum or even bigger," Finley said.
While he may be in his 60s and one of only a few -- of any age -- who gets an opportunity at a second chance, it certainly hasn't dampened his confidence or his humility.
"I know just who I am -- it ain't what you do, it's how you do it and why you do it. You can always shine when it's your time to shine. Either you get it right the first time or there might not be a second time ... You gotta become the character whether you believe in the character or not ... It's amazing that you can be known all over the world and then barely recognized next door. To a stranger, you're somebody special, but to your brother or sister, it's nothing new to them," he explained.
For the past week, Auerbach and Finley have been on tour with the Easy Eye Sound Revue and Shannon & the Clams, and Finley has been soaking in every second of it.
"Who would ever think a blues man would be jamming rock & roll and jazz all at one time?" he said. "That's how I know there's something good about it, something more than just normal. It's the reaction of the crowd -- sometimes the crowd is so big I can't see it but I can tell by the roar. Once I step before the bright light, pretty much everything goes blank."
"To know that I'm spreading joy is the main thing. I see happy people, I see joy, I see laughter. I don't feel a danger from the crowd because the love overpowers the fear -- the love of music and the love of people. I never really worry about the safety. It's all in the hands of the good Lord anyway," Finley continued.
Before we hung up, Finley said I could call him any time. He might not pick up if he's busy, he said, but he'd call me back as soon as he could.
Then, he left me with this parable: "If you put ants in a bucket and leave it overnight, all the ants will be out of the bucket. The human being will be like the crawfish: still in the bucket, everyone pulling everyone back down."
Observatory North Park hosts Dan Auerbach & the Easy Eye Sound Revue featuring Robert Finley and Shannon Shaw with Shannon & the Clams on Monday, Feb. 19. The show is sold out.