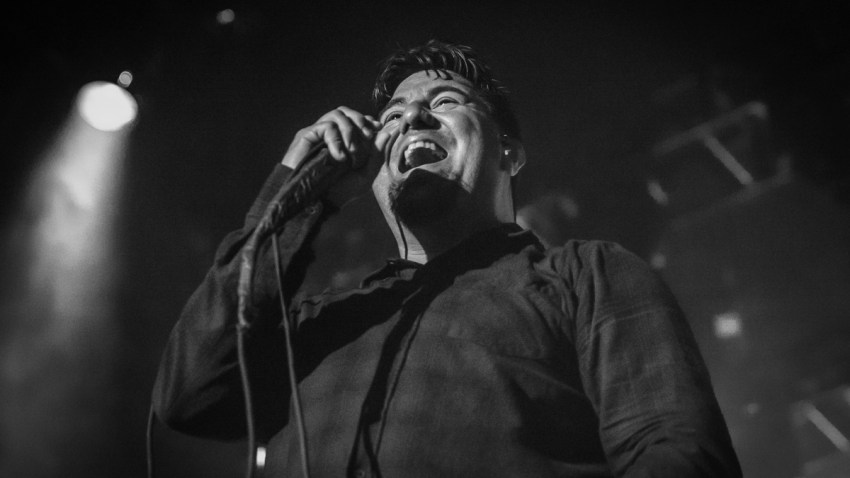 It's great to see that just because it's November things aren't slowing down just yet. This afternoon, we've got some great stuff, like the Bedbreakers at Panama 66 or Grampadrew's Flim Flam Revue. Of course the big show today is Dia De Los Deftones at Petco Park at the Park. There's a pretty awesome lineup, including hometown heroes Rocket From the Crypt. By night, head north to Oceanside for Dani Bell, the Heavy Guilt and our buddies Parker Meridien at Pour House, or party with Doc Hammer at
Bar Pink
. LA indie-pop duo Freedom Fry play Soda Bar, and Betamaxx bring the '80s to
Belly Up
. Of course, there are a couple of sold out shows including the Internet at the Observatory and Clan of Xymox at
Casbah
. We're all in for music today, and I hope you can find something to satisfy your aural desires.
Saturday, Nov. 3:
Clan of Xymox, the Bellwether Syndicate, DJ Robin Roth @ Casbah (sold out)
Dia De Los Deftones featuring Deftones, Future, Mike Shinoda, Rocket From the Crypt, Ho99o9, Doja Cat, Vein, Vowws @ Petco Park
The Internet, Moonchild @ Observatory North Park (sold out)
Freedom Fry, Dresage, the Spiritual Motels @ Soda Bar
Doc Hammer, Gorm, Russian Tremors, Inhalant, DJ Heather Hardcore @ Bar Pink
The Stunt Dog Experience @ Poway OnStage
Dani Bell & the Tarantist, the Heavy Guilt, the Parker Meridien @ Pour House
Betamaxx, Paging the '90s @ Belly Up
Lefties, Blunites, the Monsoon, Fever Machine, Ignant Benches @ Soma
Ripening, Grand Curator, Levi Dean & the Americats @ Ken Club
Felipe Esparza @ Balboa Theatre
'80s vs. '90s Dance Party with DJs Saul Q & Gabe Vega @ Whistle Stop
Grampadrew's Flim Flam Revue @ Whistle Stop (5 p.m.)
Modern Day Moonshine @ Rosie O'Grady's
Tron Themed '80s New Wave Dance Party with Aaron Wallace, Josex & Dave Parley of Prayers @ Blonde
Nick Cannon's Wild 'n' Out Live @ Viejas Arena, SDSU
The Bedbreakers @ Panama 66
City Ballet of San Diego: Tchaikovsky Spectacular @ Spreckels Theatre
Marco Antonio Solis: La Historia Continua Tour @ Valley View Casino Center
Rock En Espanol with Zenith @ Border X Brewing
Death From Above, CRX @ Music Box
Roni Lee and Becca Jay @ Lestat's
Levitt Amp Series featuring Las Cafeteras @ California Center for the Arts, Escondido
The Little Mermaid @ California Center for the Arts, Escondido
Madrost, Mythereum, Corpsemaker @ Til-Two Club
Day of the Dead @ Backdrop (formerly Java Joe's)
Kip Moore @ House of Blues
Gospel Brunch @ House of Blues
Miss Coco Peru in "The Taming of the Tension" @ Martini's Above Fourth
Punk Rock Chili Dog Social @ Tower Bar (2 p.m.)
Nature Boys, Quali, Contact @ Tower Bar (9 p.m.)
Thump Juice @ De Oro Mine Co.
Zigtebra, Rodrigo Bars, OrchidxMantis, the Spider Ferns @ Bancroft Bar
Brandon Ray @ Moonshine Beach
Cody Webb @ Moonshine Flats
8 East @ Winston's (2 p.m.)
Ristband @ Winston's (5 p.m.)
The Moves Collective, STIG @ Winston's (9:30 p.m.)
Ghost A.D., Epic: Tribute to Faith No More, Alice Insane @ Brick by Brick
Bear Night San Diego with DJ Jon Williams @ The Merrow
Strictly Business with DJs Edroc & KanyeAsada @ The Office
Electric Mud, Rhythm & the Method, Deltaphonic @ 710 Beach Club
Detroit Underground @ Tio Leo's
Sara Petite @ Humphreys Backstage Live (5 p.m.)
Full Strength Funk @ Humphreys Backstage Live (9 p.m.)
Posse on Broadway @ El Dorado
Tensnake @ Bassmnt
Dia De Los Muertos @ Spin
Nemesis @ Navajo Live
Diwali: Festival of Lights @ Kava Lounge
Rockstar Saturdays @ Henry's
Rosemary Bystrak is the publicist for the Casbah and writes about the San Diego music scene, events and general musings about life in San Diego on San Diego: Dialed In. Follow her updates on Twitter or contact her directly.