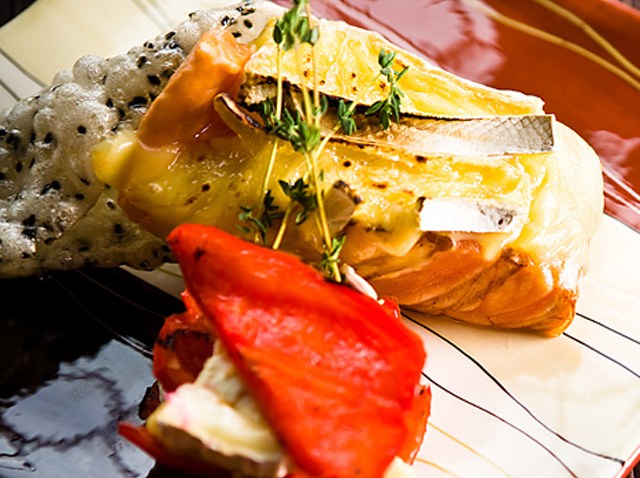 Luxury and lifestyle were at the heart of a tasty gathering in Del Mar that aimed to satisfy the hunger of those who love to eat, cook and drink gourmet.

The Gourmet Experience was a weekend long event at the Del Mar Fairgrounds that included some of the biggest names in San Diego.

"Everybody from Chef Brian Malarkey to Chef Jeff Rossman to Chef Bernard Guillas from the Marine Room," said co-producer of the Gourmet Experience, Michelle Metter.

Malarkey described the expo as a cross culture.

"You've got chefs talking with at home cooks and you know, I think we're all learning a lot from each other," he said.

He's also learning a lot about the restaurant business. The reality TV icon recently opened up some new digs in the Gaslamp, called Searsucker.

"We're two months old and we're packed. So, we're extremely thrilled," Malarkey said. "It's very relaxed, family style. Community tables, couches in the middle of the dining room, a lot of great music, a lot of beautiful women."

Terra Restaurant and Bar Executive chef Jeff Rossman says TV and magazines have helped make people excited about food and paved the way for the first annual Gourmet Experience.

" There are a lot of cool things, a lot of cool gadgets and different kinds of products here today and just to have chefs out here and some well know chefs, you know, from some restaurants and some catering companies, just to get people excited about food and just the whole experience," Rossman said.

Chef Bernard Guillas from the Marine Room had fun with the crowd during his demo.

"I've got to tell you guys, when you come over here there are over 100 vendors. 100 vendors! And it's for everybody. So you can taste some bourbon, some chocolate," said Guillas.

Executive chef Bridget Bueche from Fixtures Living said the event not only combines gourmet foods, but gourmet talents and foodies alike.

"It's a perfect platform to really introduce people to what we do and I feel like people who are a part of Gourmet Experience are my people," Bueche said. "Really, it's a perfect match."

She says Fixtures Living, where she works, is really based on customer experience.

"What I mean by that is that we sell kitchens, we sell outdoor and we sell private wellness. Really what we're trying to do is go beyond what regular retailers do," Bueche said.

They use local products and local foods to design and teach people how to have a better lifestyle.

"If there are people that are so busy and they tell me, 'I don't even cook,' well, I have a perfect steam oven that will make your life better than you ever knew it. Because if you're buying a special gourmet lasagna from Whole Foods that costs $15, you don't want to heat that in a microwave," Bueche said. "I'm going to show you how to gently reheat it so that it takes the integrity of the lasagna and prepares a meal quicker, easier, better, healthier than anything we've ever had."

Cori Cocca from the Temecula Valley Wine Grower Association was there to pull wine lovers into wine country.

"We also have a great event that's coming up in November, which is the Harvest Celebration where you get to visit 31 wineries for two days," Cocca said. "It's a special passport and it's a food and wine-pairing event."

There was a lot of enthusiasm from people who love things gourmet, which extended beyond food.

"It really goes more towards how you live your life and all the things that you surround yourself with. It's about how you travel, what you drive, and what kind of things you surround yourself with in your home," said Metter.