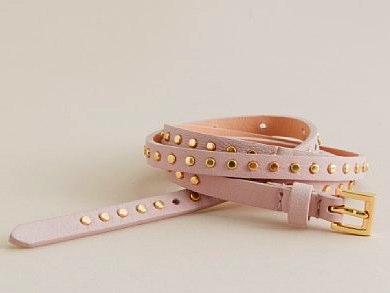 ONE FOOT IN: Many of this season's studs are rough and tumble, but you can still participate while staying demure. The Dolce Vita Trinity Studded Pump ($210) at Saks Fifth Avenue is sprinkled with tiny studs and comes in a lovely beige-y Grigio shade.

SWEET SHEATH: Put your studs where they'll count - front and center - with this lovely shell Ecote Studded Tank ($210) from Urban Outfitters. The length is good for tucking or belting, and the neutral pallet makes it easy to pair with a variety of layers.

UNDER CONTROL: A tiny belt with delicate stud details looks more like an accent and less like a statement. The J. Crew Skinny Studded Belt ($35) is a perfect example of how to incorporate studs without letting them hijack your look, and it comes in unexpected colors like blush, silver and pear.

HIT KNITS: When wool knit gloves get a dose of the hard stuff, look out! The Aqua Studded Wool Gloves ($38) at Bloomingdale's give a hint of glint at the wrists while staying subtle.