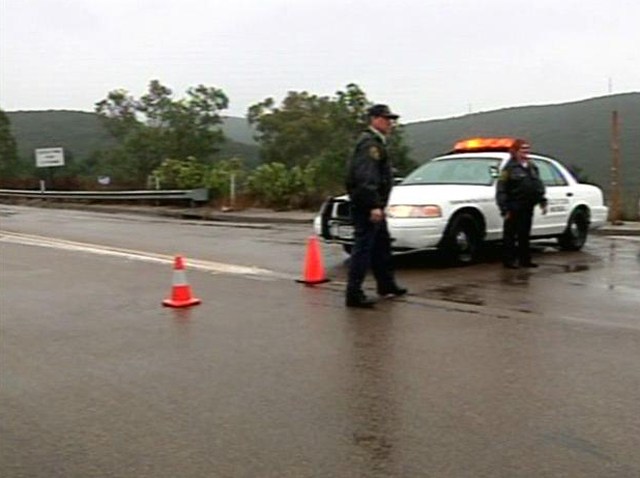 A man shot by officers in East County Tuesday has a heroic past.
Michael Foster, 38, was shot by SWAT officers Tuesday after a five-hour standoff in Alpine. He was taken to Sharp Hospital after the shooting.
The San Diego County District Attorney's Office confirmed after the shooting that Foster was a good Samaritan back in 2008, coming to the aid of a woman who was set on fire by her boyfriend. According to officials, Foster pulled the woman out of her burning mobile home.
The standoff on Tuesday began about 8:20 a.m. after Foster held his wife at gunpoint, according to deputies.
"He fired at least one round very close to her head,"said Lt. Dennis Brugos. "And he made some bizarre comments to her."
She escaped and ran to a nearby neighbor's house to call 911. She said she feared Foster would take his own life.
Foster then barricaded himself inside the home. The combat-trained Army medic fired numerous rounds inside his house, according to San Diego sheriff's Lt. Marco Garmo, which prompted deputies to call in SWAT officers.
Foster is believed to be suffering from post-traumatic stress disorder (PTSD), Garmo said. His wife told deputies the man may have been having combat flashbacks.
Investigators said Foster had been drinking alcohol and taking medication for combat stress.
Shortly after 1 p.m. detectives said Foster walked out his back door and began shooting. "Fired once, possibly twice at the deputies, and they fired back at him and that's when he was shot,"Lt. Brugos told NBCSanDiego.
Foster is a well known veteran in east county who spent many hours at the Alpine V.F.W.
"He's always conscious of the veterans and helping them, he's done more for the veterans at this post than anybody's done in the history of this post,"said post commander John Rizzo.
Deputies said Foster was arrested last week at the Casino Inn after getting into a bar fight. They said he also punched a deputy during the arrest.
Get Breaking SMS Alerts: Be the first to know when news breaks:
Text SDBREAKING to 622339