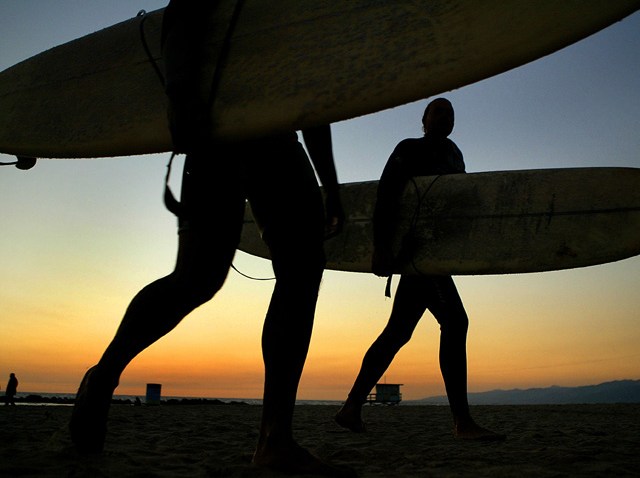 San Diego's surf scene is gearing up to make big waves next weekend; only it won't be in the water.
Surfers, collectors, hobbyists and fans are going be flocking to The Sacred Craft Consumer Surfboard Expo, an event celebrating surfboards, and the people who love them, at The San Diego Convention Center.
"It's about surfboards and all the culture that flows from the surfboard", said Scott Bass, the event's director. "Sacred Craft means the craft itself, hand shaping it, but it also means the craft in the vehicle…all our boards, whether they're made by machine or by hand, have some real heart felt meaning to us and in that sense their also sacred crafts," said Scott. "Surfing is really about freedom and enduring youth... you can be an 85 year old surfer on the beach and you really just feel like a 14 year old kid."
Though this is its first time at the convention center, The Scared Craft Expo has been celebrating surfing culture in San Diego, and elsewhere, since 2007. "San Diego and surfing are synonymous," said Scott. "We've had legendary surfers come through the San Diego beaches … you really can't mention San Diego without thinking about surfing; it's a big part of the fabric of our society here."
Got an old surfboard, or a vintage surfing related magazine hanging around your house?This year the expo is playing host to "Antique Roadshow" style appraisals, so you'll want to bring any and all your surf collectibles along to get seen and appraised by some of the best experts in surf memorabilia collecting today.
While Scott said an early seventies-era lighting bolt pintail surfboard is the "hot ticket" right now in the collecting world, collectors and appraisers alike are looking for people to bring anything surf related to the expo, especially items like surf 'paper'. Surf paper, as the experts refer to it as, is considered anything from posters to magazines that feature surfing and the surfers who made the sport famous in the past.
Scott showed some items he had brought along for the interview, which included a copy of Reef magazine from 1960, featuring an article about the death of surfing legend Bob Simmons and a National Geographic from 1935 with an article written by surfboard designer Tom Blake. The items could run for as much as $150 dollars or more depending on who was bidding, said Scott.
"Everyone has some buried treasure in their garage or underneath their house; it's really more about bringing out what the specific person might think has some value to them." You can get your appraisals for surfboards, surf 'paper', surf art and other surf memorabilia at the Sail Pavilion in the San Diego Convention Center during the expo on August 14.
San Diego's love affair with surfing, and it's collectibles, spun out of the 1907 introduction of the sport to California by George Douglas Freeth, who served as a lifeguard and swimming instructor and a 1916 visit by Olympic swimmer Duke Kahanamoku. The sport went on to be popularized by legendary San Diegan surfers like Charlie Wright, Emil Sigler, Faye Baird Fraser, the first well-known female surfer, and Bob Simmons, who is credited as "Father of the Modern Surfboard" after crafting a new design in the '50s.
The art of crafting a surfboard is going to take center stage at this year's expo. "Shape Off" will mark the 30-year anniversary of legendary surfer and shaper Simon Anderson's seminal Thruster surfboard design and the Young Guns of Shaping with a contest in which shapers will get a chance to create a surfboard of their own design. "You'll see basically from start to finish how surfboards are made," said Scott.
Sacred Craft's Tribute to the Masters Shape-off honoring Simon Anderson is this year's headlining event and to go along with it the expo is going to feature row upon row of surf related exhibitors offering up everything a surfer or fan could ever need to know about the sport, an exhibit honoring surf legend Bob Simmons, an Art Grotto curated by Robb Havassy where artists will be creating surf art, a film lounge, surfers playing music for others surfers and much more.
You can catch the waves at The Sacred Craft Consumer Surfboard expo August 14 and 15 at San Diego Convention Center running concurrently with the ASR convention in the same venue. August 14 the expo runs 10 a.m. until 6, with the Art of Shaping OC Edition scheduled for 6 p.m. to 8. On August 15 doors open at 10 a.m. and close at 4. Tickets to the event are $10 at the door and include a subscription to TransWorld SURF and among other door prizes.
For more info on the EXPO and Sacred Craft check out their website here.