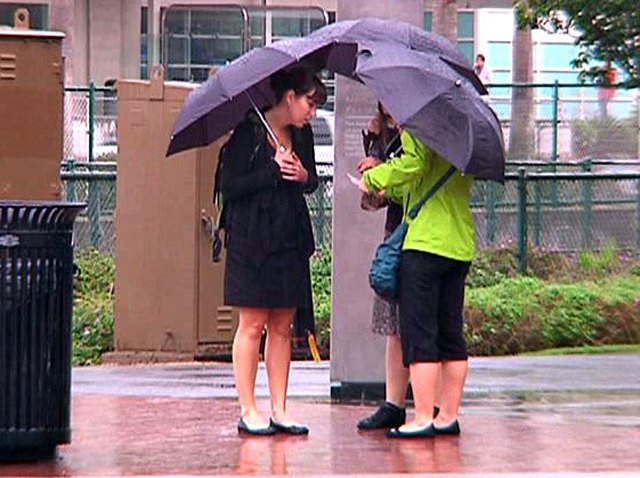 Any good San Diegan takes advantage of these infrequent rainy days to pull out the sweaters, boots and umbrellas. We all know it's not often they're needed. But on Tuesday, there were more than a few tourists caught without the proper gear when a storm rolled in off the coast.
The county is likely to see scattered showers and isolated thunderstorms Tuesday evening and Wednesday.
Jenny Cooper from Galveston, Tex. didn't even think to bring an umbrella on her trip to San Diego. She and a few colleagues attending a conference for anaesthesiologists were using a paper to cover their heads while crossing the street in front of the San Diego Convention Center.
"We saw blue sky this morning but that was about it," Cooper said.
Jesse Pandorf admitted the weather was a surprise and exposed his apparent lack of packing skills. "I didn't think I even needed a jacket," he said.
One member of the group saw a silver lining to this storm. Used to the hot and humid weather of Texas, Brandy Bergeron appreciated the chance to pull out some boots and fall clothing.
"We thought it was going to be perfect weather every day here," she said. "That's definitely what you expect when you come to San Diego."
Expect periods of off-and-on showers. Some of it will be very heavy at times. As of noon Tuesday, there was heavy activity in the North County, starting with a broad band of showers and thunderstorms that developed around Alpine and continued across the county all the way to eastern Oceanside, then Camp Pendleton and finally offshore and out to sea.
A flood advisory has been issued by the National Weather Service for those areas prone to high water during storms.
If you've got great rain images or video, send them to us by emailing to isee@nbcsandiego.com.