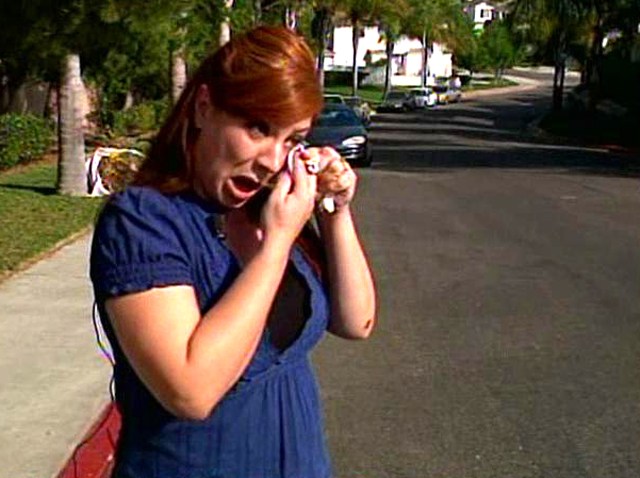 The Rottweilers that attacked a boy on his way to school are still showing signs of aggression nearly a week after the attack.

Vista sixth-grader Clayton "C.J." Snow, 11, was walking to class at about 9 a.m. Friday when two Rottweilers on the loose attacked him behind Rancho Buena Vista High School. The boy was bitten 40 times and required dozens of stitches, the North County Times reported.

The Rottweillers are currently on a medical quarantine at an animal shelter. Officials at the North County Humane Society are monitoring the dogs for any sign of rabies. While at the shelter, the 2-year-old dogs -- named Starsky and Hutch -- barked at a photographer taking their picture. According to the shelter, the dog's owner said the animals had been vaccinated but were not licensed. They were never neutered, which can contribute to a dog's aggression.
Keely Garcia witnessed the attack and was one of three people who came to the boy's aid.
"It just got so bad, and they were mauling him, and they just ripped off his pants and everything, and they just kept biting him, and I remember him, and he looked at me and it was like, 'I don't want to die,' " Garcia said.
Garcia said she was terrified for the boy.
"I didn't even think -- all I thought: 'This little boy and these dogs are gonna kill him," Garcia said. "They were huge."

Misha Snow, the boys mother, said Thursday that the family had hired a lawyer. At the request of that attorney, Misha is now politely declining to be interviewed. When asked if she was planning to take legal action against the dog's owner, Misha said she wasn't sure but wanted to cover herself should her son develop any complications from his injuries.

Earlier this week, however, she told the North County Times that her son was doing much better and could be back in school as early as Monday of next week. He had some infections in his stitches, but it was hoped that he would make a full recovery, she said.

"He is recovering well, pretty speedy," Snow told the paper. "But, of course, my concerns are his mental state, his emotional state."
She said her son is now strong enough to talk about the incident, but he still has nightmares and avoids their Yorkshire terrier.

Humane Society officials said the dog's owner was extremely sorry and signed the dogs over to the shelter. He said a family member apparently left a gate open, which is how the dogs got out.

The dogs are due to be euthanized after it's determined whether they have rabies.
Copyright Archive Sources