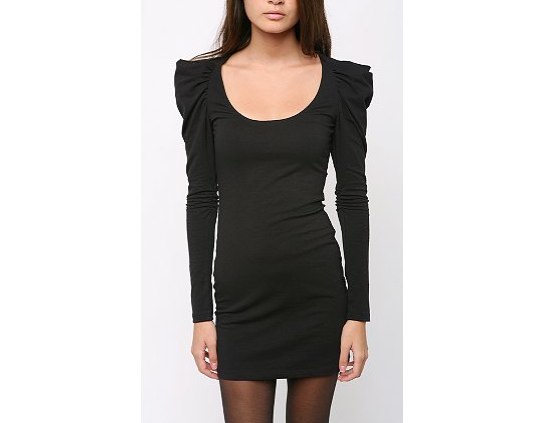 HOT SAUCE: To slip into the strong shoulder look with the most impact possible, try a fantastically structured dress like the Silence & Noise Strong Shoulder Dress at Urban Outfitters ($58). This number is flying off the shelves with its ruched shoulders, scoop neck and long, slim sleeves.

ON THE LEVEL: Blazers are made to give straight lines and refinement to any look, so they're naturally suited for strong shoulder style. The Express Minus the Leather Strong Shoulder Blazer ($98) is animal-friendly and full of polish with its tuxedo collar and tailored fit.

PEAK PERFORMANCE: Your tired white button up could use a pick me up, and strong shoulders may be just the thing. The Robert Rodriguez Peaked Shoulder Blouse ($253) at Shopbop is an easy way to update your wardrobe and make any outfit a little more pert.
GET OUT: Fashion and function are the names of the game when it comes to outerwear, and a strong shoulder overcoat will go the distance in both categories. The Juicy Couture Lana Wool Pea Coat ($428) at Bloomingdale's has strong shoulders, puff sleeves and brassy military style that looks sophisticated in any setting.