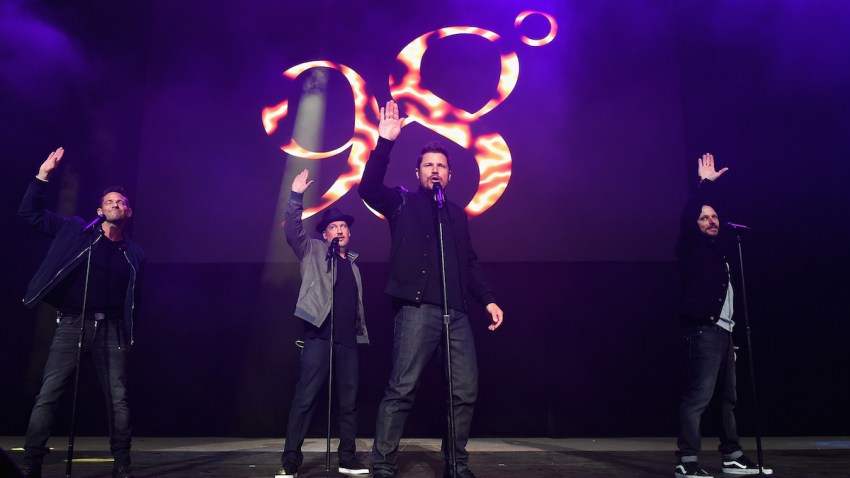 There are some seriously great shows tonight, but if you're already in the holiday spirit, former boy-band (do we call them a man-band now?) 98 Degrees are in town with a show at Balboa Theatre. All I can say is: If Nick Lachey is gonna be in an eggshell cable knit turtleneck sweater, sign me up. Of course, you can keep it a little more indie with a night of Sir Sly and Joywave at the Observatory. Sir Sly was one of a handful of bands that did a residency at the
Casbah
early in their career, and putting in that time and work here and in other cities has clearly paid off for them. Meanwhile,
Casbah
welcomes Southern Culture on the Skids, who just rereleased a sort-of "best of" record, but with all new recordings of those hits, and of course, expect that flying fried chicken they're known for as a staple of their shows. The Kingston Trio play a special show at Poway Onstage, post-rock Brits Yndi Halda play Soda Bar and San Diego Content Partners hold another exclusive show at their in-the-know spots.
Sunday, Nov. 18:
Sir Sly, Joywave @ Observatory North Park
Southern Culture on the Skids, Thee Allyrgic Reaction @ Casbah
98 Degrees at Christmas @ Balboa Theatre
The Kingston Trio @ Poway OnStage
Yndi Halda, Staghorn @ Soda Bar
Borderland Noise featuring Sontag Shogun, Booker Stardrum, Rhodonia @ San Diego Content Partners
Clinton Davis, Brother Maybelle @ Sycamore Den
San Diego Clarinet Quartet @ Mission Trails Regional Park (3 p.m.)
Therapy, Karbonite, All Beat Up, Missing Limbs @ Whistle Stop
Failing Up, Ash Williams, War Fever, No Skill Required @ Tower Bar
Charlie Rae, BlackCherry Lightnin' @ Belly Up
Gospel Brunch @ House of Blues (1 p.m.)
King Lil G & Rittz @ House of Blues
Chad & Rosie @ Crossroads, House of Blues (free)
Dance and Percussion Workshop with SambaDa @ Worldbeat Center
Rat Sabbath with DJ Ratty @ Bar Pink
Subspecies @ Lestat's (4:30 p.m.)
Robin Henkel @ Lestat's (4:30 p.m.)
Acceptable Losses @ Bancroft Bar
Poetry Reading/Open Mic @ California Center for the Arts, Escondido
Alexander Booking Presents: Music & Art @ Che Café
Alice in Wonderland @ California Center for the Arts, Escondido
Murder Pony @ Winston's (2 p.m.)
Burlesque Sunday Tease @ The Merrow
Keep it on the DL @ Martini's Above Fourth
The Night Howls @ Pour House
Devildriver, Jinjer, Raven Black, End Thy Species @ Brick by Brick
Salsa Sundays @ Queen Bee's (all ages)
Ethixx @ Kava Lounge
Reggae Sunday with Irie G, Burnin Up, DJ Red @ U-31
Uptown Top Ranking @ The Office
Singer/Songwriter Night @ Navajo Live
Cerissa McQueen @ Humphreys Backstage Live (7 p.m.)
Reggae Sunday @ Spin
Sunday Groove with DJs The Professor, Juni Flo @ El Dorado
Rosemary Bystrak is the publicist for the Casbah and writes about the San Diego music scene, events and general musings about life in San Diego on San Diego: Dialed In. Follow her updates on Twitter or contact her directly.