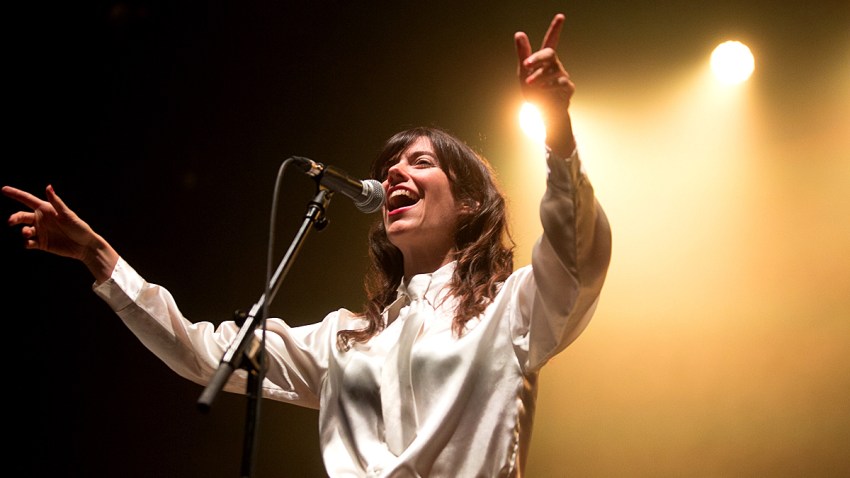 The action-packed weekend continues with day two of Crssd, Oktoberfests in La Mesa and El Cajon and, of course, the Adams Avenue Street Fair. The weather was perfect yesterday, and it should be just a lovely today. Some highlights for today's festival include the Slashes, Euphoria Brass Band, Hot Rod Lincoln and the Bayou Brothers. Keep in mind the fest ends at 6 p.m., so get there early. Tonight will be just as sweet, with singer/songwriter Natalie Prass at the Casbah, punk band Guttermouth at the Observatory and Lost in Society performing at Soda Bar.
Sunday, Sept. 30:
Casbah presents Dirty Sweet, Euphoria Brass Band, Stephen El Rey, the Slashes @ Adams Avenue Street Fair
CRSSD Festival @ Waterfront Park
Adams Avenue Street Fair @ Adams Avenue, Normal Heights & Kensington
Josh Fischel's Music Tastes Good @ Long Beach, CA
Oktoberfest @ German American Societies, El Cajon
La Mesa Oktoberfest @ La Mesa Village (10 a.m.-6 p.m.)
Ohana Festival @ Doheny State Beach, Dana Point
Natalie Prass, Stella Donnelly @ Casbah
Lost in Society, Stay Wild, Plane Without a Pilot @ Soda Bar
Adams Avenue Street Fair: the Liquorsmiths (5 p.m.), Chris Avetta Band (3 p.m.), Eva & the Vagabond Tales (1 p.m.) @ Sycamore Den
Chris Murray Combo @ Panama 66
A "Dark Sound-Bath" as the closing ceremony for San Diego Zine Fest @ Bread & Salt
Guttermouth @ Observatory North Park
HappyRon and Friends @ La Mesa Spacebar (6:30 p.m.)
Fashion Jackson, Buddha Trixie, the Happy Fits, LoveGlow @ Lestat's (8 p.m.)
Performing With Professionals: A Concert With San Diego's Rising Stars @ Museum of Making Music (7 p.m.)
Making Vital Connections through Music @ Museum of Making Music (2 p.m.)
Infinite Floyd: A Pink Floyd Experience @ Belly Up
DJ Dead Brains (Pall Jenkins) @ Whistle Stop (5 p.m.)
40 North Dance Film Festival @ Whistle Stop (9 p.m.)
Crssd After Dark: Flight Facilities (DJ Set), Dena Amy @ Vin De Syrah
Crssd After Dark: Hayden James (DJ Set) @ Kettner Exchange
Crssd After Dark: Mija @ Bang Bang
Crssd After Dark: Mind Against, Matador, Magdalena, Mele, Nght Mvs @ Spin
Crssd After Dark: Yotto @ Rich's
Chuponcito: USA Tour 2018 @ House of Blues
Jerry "Hot Rod" Demink @ Crossroads, House of Blues (free)
Stravinsky's "A Soldier's Tale" @ Dizzy's
Rat Sabbath @ Bar Pink
Red Room Tease, Hot Brass Injection @ Bancroft Bar (5 p.m.)
Styx @ California Center for the Arts, Escondido
Krisben-Wah, the Yucks, Masteria, Santa Ana Knights @ Tio Leo's (2-6 p.m.)
The Playground: Sunday Night Dance Party with DJ Heather Hardcore @ The Merrow
Drum & Bass @ Blonde
Shane Hall @ Pour House (9 p.m.)
School of Rock @ Pour House (1 p.m.)
Angra, Scarlet Aura, Novareign, Nightshadow, Sentinel @ Brick by Brick
Salsa Sundays @ Queen Bee's (all ages)
Reggae Sunday @ U-31
Uptown Top Ranking @ The Office
Jason Brown @ Humphreys Backstage Live (10 a.m.-2 p.m.)
The Finns @ Navajo Live
Groove Squad @ Humphreys Backstage Live (7 p.m.)
Reggae Sunday @ Spin
Sunday Is for the Girls benefit for Keep-A-Breast Foundation @ El Dorado
Rosemary Bystrak is the publicist for the Casbah and writes about the San Diego music scene, events and general musings about life in San Diego on San Diego: Dialed In. Follow her updates on Twitter or contact her directly.