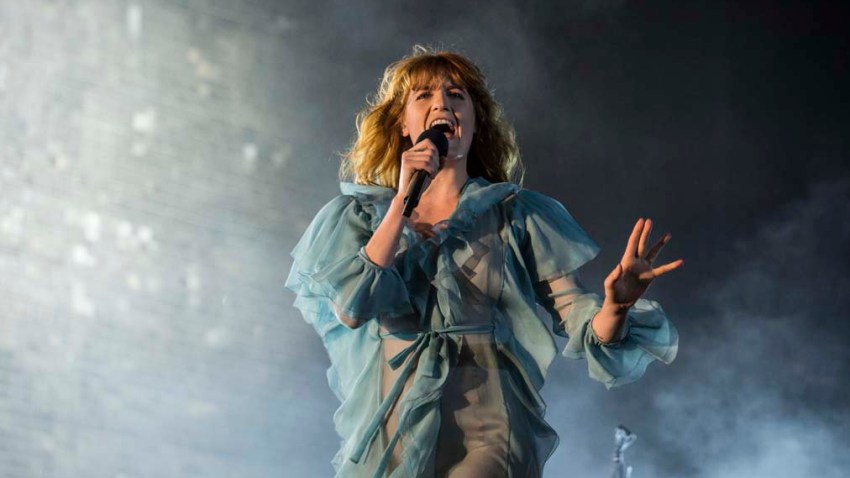 There are so many great shows tonight that it might be hard to decide where to go. In the daytime, you can enjoy the second day of fall at Julian's Country Fair, or head up to Carlsbad for Steve Poltz, who will be playing at ArtWalk Carlsbad. Unlike its San Diego counterparts, admission is only $10 for patrons over 15. There's a special convert at the Universalist Fellowship of San Dieguito that hopes to bring awareness to gun violence as part of a national concert series, and there will be several music and dance performances at the Pacific Islander Festival at Ski Beach. By nightfall, however, it can be tough to choose. Greta Van Fleet, being hailed as this generation's Led Zeppelin, has long been sold out at the Observatory, but you might still be able to grab tickets for Florence & the Machine, who were recently nominated for the prestigious Mercury Prize. Even still, you might want a quieter night with half of Fiery Furnaces, Eleanor Friedberger, at the
Casbah
. Or, wear your stompin' boots for J Roddy Walston & the Business at
Belly Up
. There are some great choices to be made tonight, so maybe don't write off your weekend quite yet, and get out for some live music.
Sunday, Sept. 23:
Julian's Old Fashioned Country Fair @ Julian Farm and Orchard
International Peace Day Celebration @ Worldbeat Center (12 p.m.-7 p.m., free)
ArtWalk Carlsbad @ Armada Drive (above the flower fields off of Palomar Airport Road)
Pacific Islander Festival @ Ski Beach, Mission Bay
Concert Across America to End Gun Violence featuring Rebecca Bellingham, Josh Weinstein, Mike Pope & Songs for People, Team Enough (the Brady Campaign's student movement), the Kaotics @ San Diego Unitarian Universalist Fellowship of San Dieguito
Florence & the Machine, Kamasi Washington @ Viejas Arena, SDSU
Greta Van Fleet, Dorothy @ Observatory North Park (sold out)
Hannahlyze This featuring Hannah Hart & Hannah Gelb @ The Irenic
Eleanor Friedberger, Pill @ Casbah (7 p.m.)
J Roddy Walston & the Business, Jonny Fritz @ Belly Up
The New Division, Nite, the Slashes @ Soda Bar
Live Nation presents Def Leppard, Journey, Cheap Trick @ Petco Park
Troyboi the Midnight, Ayokay @ Float, Hard Rock Hotel
Breakthru Entertainment @ House of Blues
House of Blues Gospel Brunch @ House of Blues (11 a.m.)
Daggermouth, Give You Nothing, Alive and Well @ Che Café
Poison Boys, Dead on the Wire, Slaughter Boys, Razor Nights @ Tower Bar
Whigsville 29BC with Richard Whig and Girlgroupgirl @ Whistle Stop
Chloe Lou & Davies @ Sycamore Den
Funk Jam @ Panama 66 (6-8 p.m.)
Eleven Pond, Fossil Arms, Post Tropic, DJs Disorder, FN1, Deadmatter @ Space
Madeleine Peyroux @ Music Box
Chad & Rosie @ Crossroads, House of Blues (free)
Rat Sabbath @ Bar Pink
Edena, Glass Mind, Obesity, Trees Before Fall @ Bancroft Bar
Sophia Alone @ Martini's Above Fourth
Fish & the Seaweeds @ Winston's (5 p.m.)
Sunday Funday: End of Summer Party @ The Merrow (5 p.m.)
The Playground: Sunday Night Dance Party with Heather Hardcore @ The Merrow
Staybad x H2O After Party @ Blonde
Scratch: Version 2.0 @ Kava Lounge
Reggae Sunday @ U-31
Uptown Top Ranking with Tribe of Kings @ The Office
Stellita @ Humphreys Backstage Live (10 a.m.-2 p.m.)
SuperBand @ Navajo Live
Musicology @ Humphreys Backstage Live (7 p.m.)
Bazzi @ Parq
House2ourselves featuring Egyptian Lover: Staybad & Flatline @ Spin
Rosemary Bystrak is the publicist for the Casbah and writes about the San Diego music scene, events and general musings about life in San Diego on San Diego: Dialed In. Follow her updates on Twitter or contact her directly.