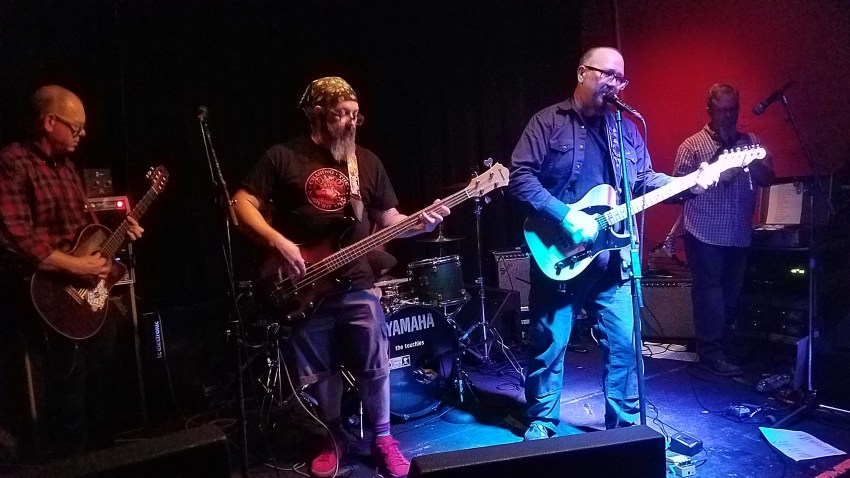 With tomorrow being Labor Day, today you get a super deluxe Sunday Funday. For day events, head to the
Casbah
to catch some of the best local music photographers of San Diego who've been capturing moments for decades. If a marathon day show is what you're looking for, check out
Bar Pink
for bands like Super Buffet, Downs Family and the Touchies. Of course, people are super excited about Ice Cube at the track today, too. By nightfall, there are plenty of shows and dance parties to fall into before you enjoy a lazy Monday holiday.
Sunday, Sept. 2:
In Your Neighborhood presents Moments From the Seen: Photos by Eric Rife, Sean McMullen, Miki Vuckovich, Ted Drake, Greg Jacobs, Mark Water, Cari Veach @ Casbah ($5, 3 p.m.)
Ice Cube @ Del Mar Racetrack
Work It! Bar Pink Day Drink Fest featuring Super Buffet, the Powerballs, the Touchies, the Heart Beat Trail, the Downs Family, Hurricane Kate @ Bar Pink (2-9 p.m.)
Booty Bassment @ Casbah ($10, 9 p.m.)
Rat Sabbath @ Bar Pink (10 p.m.)
The Phantom of the Opera @ Civic Theatre (1 p.m. & 6 p.m.)
1812 Tchaikovsky Spectacular @ Embarcadero Marina Park South
New Kingston, Tatanka @ Dive, Harrah's SoCal Resort
Jenna & the Pups, Spirited Away, Charlie Kay @ Che Cafe
Sarah Rogo @ Sycamore Den
Matthew Smith Music featuring Rob Thorsen and Tamir Kedem @ Panama 66
Pedal Steel Party SD with Adam Gimbel @ Nates Garden Grill (1-3 p.m.)
Labor Day Luau @ Lafayette Hotel, Swim Club & Bungalows (12 p.m.)
An Aural History of Femme Punk: Vinyl DJ Set @ Tower Bar
One Drop, Tunnel Vision @ Belly Up
Fantasy @ Whistle Stop
The Steely Damned II @ Music Box
Lisa De Novo, Sky Noblezada, Dave Dersham @ Lestat's
Keep It on the DL @ Martini's Above Fourth
Ldw, Betamaxx @ Moonshine Beach
The Playground: Sunday Night Dance Party with DJ Heather Hardcore @ The Merrow
Drum & Bass @ Blonde
The Night Howls @ Pour House (9 p.m.-12 a.m.)
Whit Aadland @ Pour House (1-4 p.m.)
Bachateando Salsa Extravaganza with DJ Travieso @ Tio Leo's
Salsa Sundays @ Queen Bee's (all ages)
Young Dolph @ Fluxx
Reggae Sunday @ U-31
Uptown Top Ranking @ The Office
Mercedes Moore @ Humphreys Backstage Live (10 a.m.-2 p.m.)
Becca Jay Band @ Navajo Live
LED presents Adventure Club @ Float, Hard Rock Hotel (2-9pm)
Major Interval @ Humphrey's Backstage Live (7pm)
Jose Sinatra's OB-o-ke @ Winston's
Almost Famous Karaoke @ Henry's
Stay Sweet- '80s Labor Day Weekend Party @ 710 Beach Club
Rosemary Bystrak is the publicist for the Casbah and writes about the San Diego music scene, events and general musings about life in San Diego on San Diego: Dialed In. Follow her updates on Twitter or contact her directly.