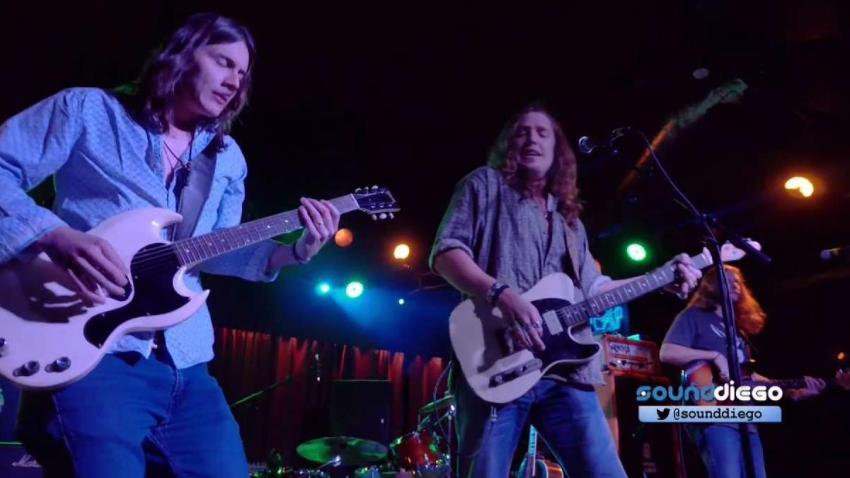 Tennis is one of those bands that I really love and try to catch whenever they return to town. They've played the
Casbah
numerous times and the Irenic, too, but tonight they're in Solana Beach with their Solo in Stereo tour. With Matt Costa opening, it will be a night of dreamy indie-pop that'll make for a perfect Sunday night. Meanwhile, the
Casbah
welcomes Rhymesayers rapper and producer Grieves from Seattle and Soda Bar welcomes Bells Atlas, "a surreal blend of R&B, psychedelia, jazz and pop." If you'd like to catch an early show, head to the Whistle Stop for one of the most talked about bands in San Diego at the moment, the Color Forty Nine.
Sunday, Oct. 7:
Oktoberfest @ German American Societies, El Cajon
La Jolla Art & Wine Festival @ La Jolla Village (10 a.m.-6 p.m., free)
Tennis Solo in Stereo tour, Matt Costa @ Belly Up
Grieves, Greater Than, Reason the Citizen @ Casbah
Bells Atlas, Tori Roze & the Hot Mess @ Soda Bar
The Color Forty Nine, Joykill @ Whistle Stop (5 p.m.)
Hannibal Buress @ Spreckels Theatre
Happy Ron and Friends @ La Mesa Spacebar (6:30 p.m.)
Breakthru Entertainment @ Voodoo Room, House of Blues
House of Blues Gospel Brunch @ House of Blues (11 a.m.)
West Coast Oktoberfest: the Pursuit of Hoppiness @ Music Box
Rat Sabbath with DJ Ratty @ Bar Pink
The Garners @ Panama 66
Blues Kitchen @ Bancroft Bar
Wild Kratts Live @ California Center for the Arts, Escondido
Keep It on the DL @ Martini's Above Fourth
The Green River Thrillers @ Tower Bar
The Blond Brothers @ Winston's (5 p.m.)
Showstopper Talent Contest @ The Merrow (6 p.m.)
Temblad, Deche-Charge, Orphic Eye @ Blonde
Pants Karaoke @ Til-Two Club
The Fall Kick Off: Scatter-Brain, Turtle Click, the Abstracts, Sociocide, Reaction Phase, Ruderalis, Effe Emme, the Industry, Rain on Fridays @ Brick by Brick
Salsa Sundays @ Queen Bee's (all ages)
Reggae Sunday @ U-31
Uptown Top Ranking @ The Office
The Too and One Tour: San Diego @ Kava Lounge
Car Radio @ Navajo Live
Major Interval @ Humphreys Backstage Live (7 p.m.)
Reggae Sunday @ Spin
Rosemary Bystrak is the publicist for the Casbah and writes about the San Diego music scene, events and general musings about life in San Diego on San Diego: Dialed In. Follow her updates on Twitter or contact her directly.