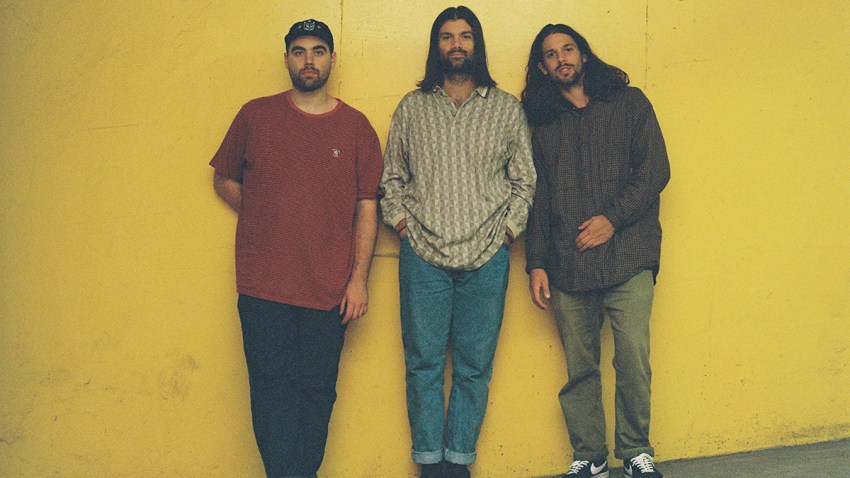 Can you believe the weekend is already here? Hopefully bringing some cooler temperatures when the night falls and the music turns up. Casbah is sold out with the return of psychedelic-rock guitar legend Roky Erickson and at 70 years old, he'll still tear the place to shreds. If you didn't get tickets, there are plenty of options to keep your ears tingling and your toes tapping. Our buddy James Supercave is back with a show at Blonde, Bit Maps headline Whistle Stop's costume party, and Virginia Beach rockers Turnover play the Irenic (read the SoundDiego interview with 'em here). Those are just a handful of the many great options of music to get the weekend off to a great start.

Friday, Oct. 27:
Roky Erickson, Death Valley Girls, DJs Andrew McGranahan & Mike Turi, DJ Ian Utero @ Casbah (SOLD OUT)

James Supercave, DJ Gabe Vega @ Blonde
Bit Maps, Forest Grove, Low Points @ Whistle Stop
Turnover, Elvis Depressedly, Emma Ruth Rundle @ The Irenic
Dead Man's Party Halloween Show @ Belly Up
Flying Lotus in 3D, Gifted and Blessed @ The Observatory
Consider The Source @ Soda Bar
Spooky Disco with Twin Ritual, guests @ Space
Glorybound Productions pres. DJ Marcellus Wallace @ Bar Pink
Brooklyn & Bailey, Ashlund @ SOMA Sidestage
Sofia Talvik @ Panama 66
Dick McGuane Quintet @ Dizzy's
Atomic Groove's Annual Halloween Bash @ Belly Up (Happy Hour 5 p.m.)
Rob Deez @ Java Joe's
Gone Baby Gone, Cochinas Locas @ Black Cat Bar
Time Machine, R.I.P., Hardwired @ Brick By Brick
Pink Froyd @ Winston's
Daniel Champagne, Hussy Hicks, Christie Lenee @ Lestat's
Musician's Club Presents: Rockin' Roulette @ The Loft, UCSD
Batlords, Ghost Town Gamblers, the A-Bortz @ Tower Bar
Boo Ball with Way Cool Jr. @ House of Blues
'80s Halloween Party @ Beach House
Coral Bells @ De Oro Mine Co
Blink 180 True, Punkture, Louder Now, DJ Oren Zigner @ The Holding Company 1502
Celtic Choral Celebration @ California Center for the Arts, Escondido
California Rangers, Mission Creeps, Jason Lee & the R.I.P. Tides @ Pour House (Oceanside)
Tribute night ft. Nurvana (Nirvana tribute), 10,000 Dudes (Tool tribute), Mario Esteban & the Blessed Hellhounds ('80s/'90s covers) @ The Merrow
Bradley Riot, Bradley Palermo, Derik Envy, Classic Mistake @ The Bancroft
Nothing Special, Half Past Two @ 710 Beach Club
Pixie Stixx: ReVAMPED -- A Burlesque Dance Party @ Queen Bee's
Janice & Nathan @ Martini's Above Fourth
AfterHours in The Office w/DJs Adam Salter & Kid Wonder @ The Office
Paul Collins, My Revenge, Birdbath, Rude Boy Beto @ Til-Two Club
All-Vinyl Happy Hour w/ Monsieur Turbeau @ The Office (6 p.m.)
DJ Freeman @ U-31
Dennis Jones @ Tio Leo's
Fabulous Ultratones @ Humphreys Backstage Live (5 p.m.)
Detroit Underground @ Humphreys Backstage Live (9 p.m.)
It's Never 2L8 @ Navajo Live
Cesqeaux @ Bassmnt
BK Lounge Reunion with DJs Billie Night, Tone Capone, MC Wordbond, DJ Rags @ El Dorado
The Bloody Beetroots, Rituals of Mine @ Music Box
Maximono, Hotfire@ Bang Bang
Party Favor, Kittens @ Omnia
Maximono, Hotfire @ Bang Bang
Rob Stone @ FLUXX
Goodtimes @ Henry's Pub
Purps n Turqs @ Kava Lounge
Club Musae @ Boar Cross'n
Rosemary Bystrak is the publicist for the Casbah and writes about the San Diego music scene, events and general musings about life in San Diego on San Diego: Dialed In. Follow her updates on Twitter or contact her directly.