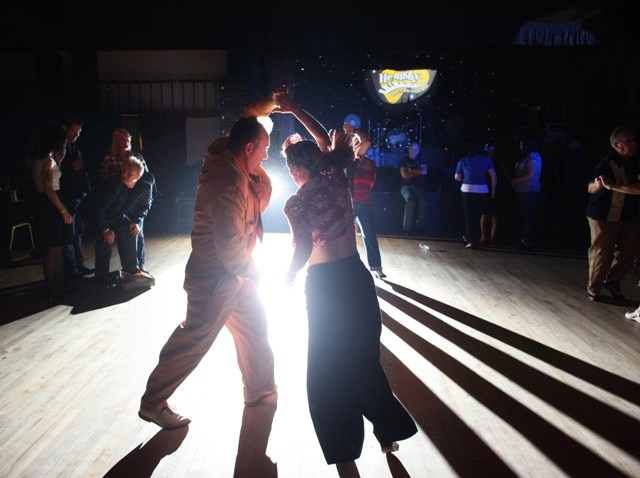 In August, longtime San Diego musician Thomas Yearsley was walking his dog, who was suffering some blindness and hearing loss in his old age, when he suddenly darted across the Oceanside train tracks as an oncoming train approached. Yearsley tried to stop his dog and in so doing, was clipped by the train. Swango, sadly, did not survive the accident, but Yearsley did. Unfortunately like many musicians, he is without insurance, and while he's mostly recovered from the incident, he has mounting medical bills incurred from his life-flight and his stay in the hospital. As a member of the legendary San Diego band the Paladins, Yearsley's friends have put together a stellar rockabilly lineup to help raise money for him. The show is in the daytime, so grab your dance partner and enjoy some festive music for a good cause.
Sunday, Oct. 24:
Rockabilly Fundraiser for Thomas Yearsley (of the Paladins), featuring the Rocketz, Graceland Mafia, Lady Borgia & Budoir Burlesque, Gino and the Lone Gunman, Exo Tiki, the Palominos, Sandbox Bullies @ 4th & B (doors at noon)
Octopus Project, Strfckr, Strength @ Casbah
K'naan, Paper Tongues @ Belly Up
Widespread Panic, Gov't Mule @ Open Sky Theatre, Harrah's Rincon Casino
The Harmony Tour, featuring Never Shout Never, The Maine, I Can Make a Mess Like Nobody's Business @ House of Blues
Harpco BBQ Jam @ Eleven
U.K. Subs, Total Chaos, D.P.I., Systematic Abuse @ Brick By Brick
Affinity Sundays, featuring Jaws Went Swimming (live), DJ David Afterlife, Dr. Diggs, Art by Hannah Cowan, Mofo, Gumaro Pina, E-Man, True, Sabrina Sade @ Se Hotel (1047 5th Ave.)
Klub Isolation, featuring DJs Bryan Pollard and AmBones @ Ruby Room
Roots Explosion with TRC Soundsystem, Reefah, Young Chavez, Schlepp, M.C. Patrick B@ O'Connell's
Craig of Suede, the Workday Release @ Lestat's
Steve Lawler, Leon, David Pher @ Voyeur
Luminance, featuring Joseph Vincent, Kat Badar, Leejay, Jesse Barrera @ The Loft
Wild and Tame Comedy presents Willy Wilson's Birthday, with Rocky Osborn, Rick Gene, Lindsey Palmer, Dave Sparling, music by Chet Harrison @ Dreamstreet
Sonny Rollins' The Freedom Suite (performed by Gerard Nolan, Richard Sellers, Rob Thorsen) @ Dizzy's (San Diego Wine and Culinary Center)
Matt Marshak @ Humphreys Backstage Lounge (brunch, 10 a.m. to 2 p.m. and 8 p.m.)
Luscious Noise, featuring members of the San Diego Symphony @ Anthology (early show, 7:30 p.m.)
John Sebastian @ Acoustic Music San Diego (sold out)
Rosemary Bystrak writes about the San Diego music scene, events, and sometimes whatever creeps into her head on her music blog San Diego: Dialed In. Check it for even more listings. She also provides social media content for the Casbah. Follow her updates at twitter.com/sddialedin or submit your music listings.