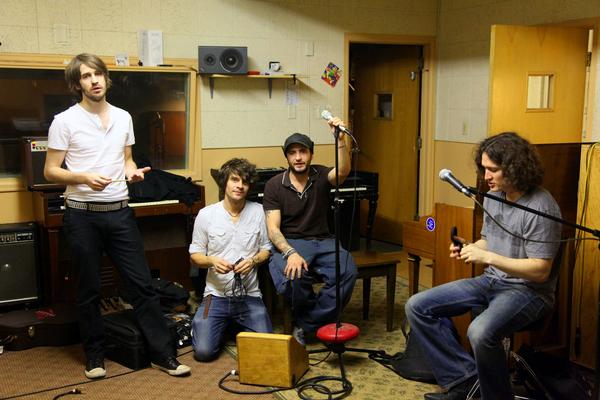 One eskimO saw great success with their single "Kandi," which used an old sample of a tune originally written by Harlan Howard but most famously performed by Candi Staton as "He Called Me Baby." Having the good fortune of seeing the band live twice this year, I can tell you that the group has incredible depth beyond their single, and its entire record was made to accompany cartoons, The Adventures of One eskimO. The advantage of having the show at Anthology, beyond being a sonically perfect room, is that you'll be able to see how the songs pair with the animated shorts. If you don't have their full record already, after seeing them perform you won't want to go home without it.
Tuesday, Oct. 19:
One eskimO, Honeyhoney @ Anthology
Women, Manchild, D/Wolves @ Casbah
Paul Oakenfold, Kenneth Thomas @ House of Blues
Mutant Space Boy, Schmaltz, Fractophone @ Soda Bar
The Fairmounts @ Eleven
The PB Dumpsters, Nods to Nothing, Plane Without a Pilot @ Ruby Room
Nena Anderson @ Riviera Supper Club
Bozzani Brothers Band @ Humphreys Backstage Live
Local Brews Local Grooves: Brad Roth, Jason Yamaoka, Dave Sawyer, The Ballad Mongers, Kenny Eng, the Chi Club @ House of Blues (Voodoo Stage)
Zapf Dingbat @ El Dorado
The Stilettos @ Henry's Pub
Mystery Cave, Elephant & Castle, James and Evander, Vegetarian Werewolf @ Tin Can
Incite, Gemini Syndrome, the Pain @ Brick By Brick
Chet Cannon and the Committee @ Patrick's ll
Kyle Sorrell and Friends @ Tiki House
Tomcat Courtney @ La Gran Tapa
Pinktober Pinkout @ Hard Rock Cafe
Jaimie Muehlhausen @ Hennessey's Vista
Open Mike with Jefferson Jay @ Gallagher's
Doug Allen, Suzy Bongo @ The Kraken
Tim and The 23's, The Last Unicorns @ Winston's
Fervor, Loose Nuttz @ Second Wind Santee
Gene Warren @ McP's Irish Pub
Jon Ji @ Old Poway Park (6:30 pm)
Rosemary Bystrak writes about the San Diego music scene, events, and sometimes whatever creeps into her head on her music blog San Diego: Dialed In. Check it for even more listings. Follow her updates at twitter.com/sddialedin or submit your music listings.