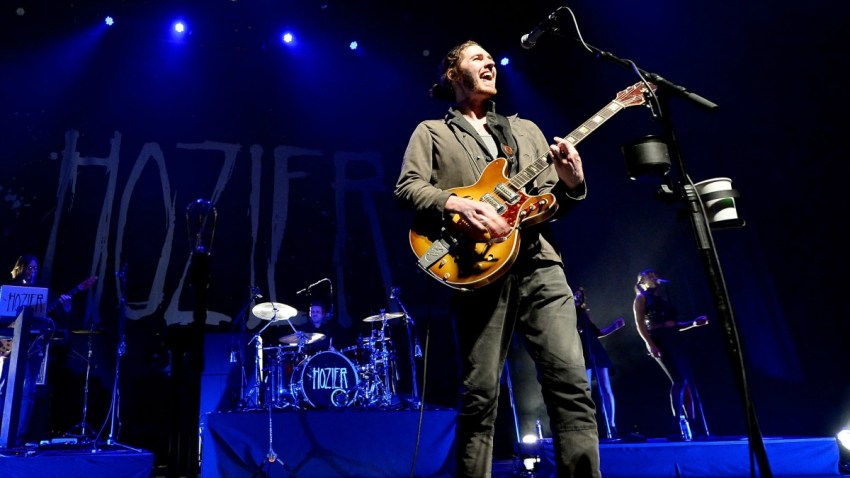 As we continue this current theme of seemingly endless music, I have to remind you that you don't have to have a lot of money to enjoy this scene. On Thursday, some of San Diego's best musicians are getting together to celebrate the music of Ryan Adams with a show at the Sycamore Den. It's free, but if the Undercover series at the Office is any indication, it will be packed, so get there early to belly up to the bar and enjoy the jams, and wish Kelsey -- a tireless force in the music scene -- a happy birthday. Meanwhile, Listen Local SD hosts All Access Fest at Music Box, and it's only $5, but it can be free if you grab tickets from any of the bands on the lineup. Of course, there are touring acts, too. Jose Gonzalez is sold out at the Belly Up, Deafheaven are sold out at the Casbah, and Hozier takes you to church at the Open Air Theatre.
Thursday, Oct. 15:
Jose Gonzalez, Riothorse Royale @ Belly Up (sold out)
Hozier, Little Green Cars @ Cal Coast Credit Union Open Air Theatre
Deafheaven, Tribulation @ Casbah (sold out)
The Goddamn Gallows, the Strikers, Sawyer Family, Radio Threat @ Soda Bar
Roar, Soft Lions, T. Rexico, Nimzo Indians @ Che Cafe
DJ Ikah Love @ Bar Pink
Listen Local Radio All Access Fest, featuring Natalie Emmons (7 p.m.), Jerry Olea & the 805 Drifters (7:30 p.m.), Morgan Leigh Band (8 p.m.), Krass Bros. (8:30 p.m.), Leave the Universe (9 p.m.), Ottopilot (9:30 p.m.), Bandalier (10 p.m.), the Lyrical Groove (10:30 p.m.), Dani Bell & the Tarantist (11 p.m.), Headphone (11:30 p.m.) @ Music Box
Ryan Adams Tribute Night & Kelsey's Birthday @ Sycamore Den
Sangre, Aghori, Contortion, Kulteir Kltr @ Brick By Brick
Gorgon City, Jonas Rathsman, Amtrac @ House of Blues
Kitty Plague, La Peor, Zombie Barbie & Mark Kramer, DJ Heather Hardcore @ The Merrow
DarkWaveGarden @ The Bancroft
Throwback Thursday @ U-31
Steph Johnson & Rob Thorsen @ Croce's Park West
City Lights @ Humphreys Backstage Live
Open Jam Session @ Winston's (6-9 p.m.)
Tony Furtado, Stephanie Schneiderman, the Flying Balalaika Brothers@ Winston's
The Blackjackits, the Cursed Bastard, the Cat Chasers @ Til-Two Club
DJ Tay James @ Fluxx
Astrojump/Kill Quanti DJs @ Whistle Stop
The Smash Ups, DJ Reefah, TRC Sound System @ Gallagher's Irish Pub
Mercedes Moore @ Tio Leo's
Desert Suns, Condor @ Boar Cross'n
Rosemary Bystrak is the publicist for the Casbah and writes about the San Diego music scene, events and general musings about life in San Diego on San Diego: Dialed In. Follow her updates on Twitter or contact her directly.