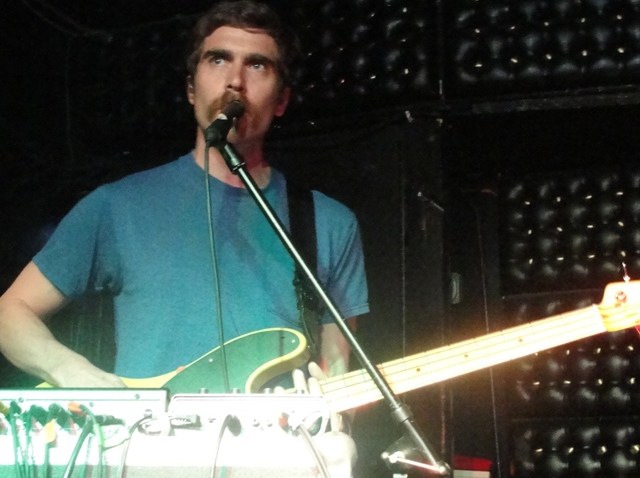 When Bear In Heaven came to San Diego earlier this year, most people in the room were unfamiliar. They were opening for Cymbals Eat Guitars and followed Freelance Whales at the sold-out show, a feat that wasn't easy. The band delivered, however, and kept the entire crowd caught up in its music instead of escaping to the bar or patio. This time around, the band is headlining, and while I'm interested to see if their moustaches have continued to grow into an artform, I'm especially excited to hear the band live again, because while its recorded material is excellent, they are a band whose live show just cannot be adequately captured on record. See them tonight at the Casbah with Lower Dens and Sun Airway.
Tuesday, November 9:
Bear In Heaven, Lower Dens, Sun Airway @ Casbah
Brawley @ Riviera Supper Club
Band Showcase Competition @ Humphreys Backstage Live
Toys That Kill, Dan Padilla, Sunnyside @ Soda Bar
The Archons, Red Octopus, the Roller @ Til Two Club
Carl Palmer Band, Agent 22 @ Brick By Brick
Local Brews Local Grooves: C0de, Icebox, Brian Bosen, Cherish, Megan Combs @ House of Blues Voodoo Stage
The Stilettos @ Henry's Pub
Candy Claws, the Chain Gang of 1974, Teen Porn @ Tin Can
90 Proof Pissers @ Eleven
Rufus Reid "Out Front" Trio @ Anthology
Swollen Members, Saigon, City Real @ Sound Wave
Laugh Out Loft @ The Loft
Local Mediums presents Gregory Page @ El Dorado
Train of Thought, featuring Eric Morago @ Queen Bee's
Abbey Road @ Welk Resort Theatre
Jeff Moore's Witchdoctors @ Patrick's ll
Dave Booda Acoustic @ Tiki House
Tomcat Courtney @ La Gran Tapa
Jaimie Muehlhausen @ Hennessey's Vista
Open Mic with Jefferson Jay @ Gallagher's
Doug Allen, Suzy Bongo @ The Kraken
Open Mic @ O'Connell's
Jetwash @ Winston's
Rosemary Bystrak writes about the San Diego music scene, events, and sometimes whatever creeps into her head on her music blog San Diego: Dialed In. Check it for even more listings. She also provides social media content for the Casbah. Follow her updates at twitter.com/sddialedin or submit your music listings.