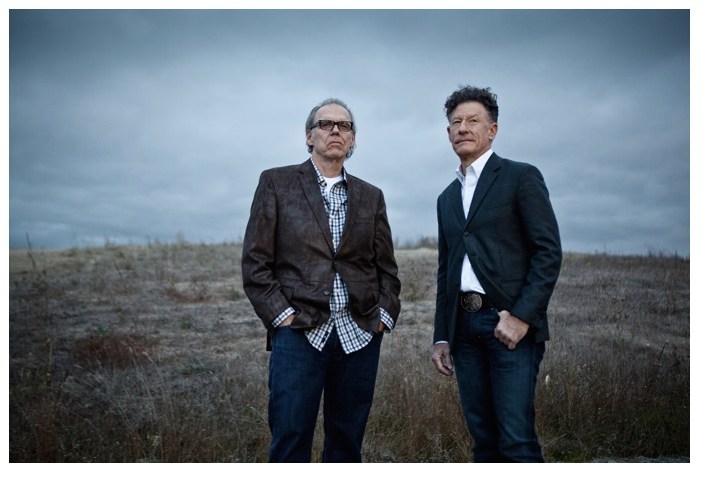 If you're looking for two songwriting legends, look no further than Lyle Lovett and John Hiatt. The two perform at the California Center for the Arts, Escondido, and while this might be quite a drive for many San Diegans, it is hard to imagine a more talented and complementary bill. Lovett is easily one of my favorite storytellers and you will get your money's worth for the effort. Meanwhile, in the central part of the county, it's a local night at the Casbah with three awesome acts that incorporate their Latino vibes with rock, the Observatory hosts hip-hop with Curren$y, and Olympian power trio Strange Wilds rock the Soda Bar.
Sunday, Nov. 8:
An Acoustic Evening with Lyle Lovett & John Hiatt @ The California Center for the Arts, Escondido
Radio Eterno, Marujah, Viri y Los Bandidos @ Casbah
Strange Wilds, the Bad Vibes @ Soda Bar
Bert Turetzky Presents JAMB @ Dizzy's
Curren$y, Freddie Gibbs @ Observatory North Park
Miguel Bose @ Viejas Arena
The Steel Wheels @ AMSD
Rat Sabbath @ Bar Pink
Danksauce & Dogs: Modern Times Dog Show @ Quartyard
The Big Decisions @ Sycamore Den
An Evening with Tim Flannery @ Music Box
Josh Abbott Band, Carly Pearce, Terra Bella @ Belly Up
Dave Good's Jazz Jam @ Java Joe's
Garth Brooks, Trisha Yearwood @ Valley View Casino Center
The Winery Dogs @ House of Blues
Shubert n Sherbet- Esscondido Choral Arts @ California Center for the Arts Escondido
Pants Karaoke @ The Hideout
Carl Durant @ Lestat's
Horsefly, the Grind, Trelic @ The Merrow
Bob Butler matinee @ The Bancroft
Hank Easton @ Croce's Park West (noon)
Danny Green Trio @ Croce's Park West (6 p.m.)
Jason Brown @ Humphreys Backstage Live (10 a.m.-2 p.m.)
Funk's Most Wanted @ Humphreys Backstage Live
Jose Sinatra's OB-O-ke @ Winston's
Open Mic Comedy @ Til-Two Club
Sunday Funday Karaoke @ 710 Beach Club
Rosemary Bystrak is the publicist for the Casbah and writes about the San Diego music scene, events and general musings about life in San Diego on San Diego: Dialed In. Follow her updates on Twitter or contact her directly.