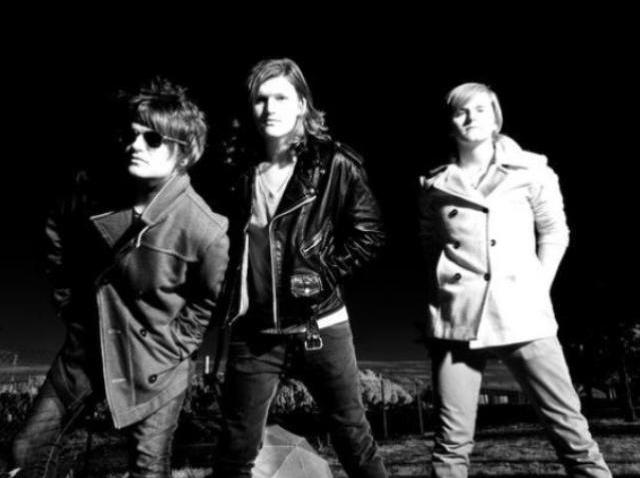 I never set out to be a blogger. I had a regular day job that perhaps had a bit too much redundancy and a lot of free time. To look busy, I would write about whatever came to mind, which usually involved shows I had seen and places I had been. I never actually thought anyone was reading until an awkward post got the attention of another blogger. From that day, I quit my online diary and created San Diego: Dialed In, a site mostly devoted to music in San Diego. The personal stuff still finds its way in, but even after four years, it is astonishing to me that this hobby has basically become my job. To celebrate four years, please join me tonight at the Casbah for three awesome local acts. d/wolves will kick off the night and show off their youthful talents, Swim Party will bring their always stellar performance and celebrate their EP release, and White Apple Tree will get booties shaking to close down the night.
Friday, Nov. 5:
San Diego Dialed In 4 Year Anniversary, featuring White Apple Tree, Swim Party, d/wolves @ Casbah
Sezio Presents Four Day Weekend, with Dominant Legs, Writer @ Sushi Art
Ghostland Observatory @ 4th & B
Battlehooch, Scales, Vegetarian Werewolf @ Tin Can
Jewel, Colbie Caillet, Tori @ Western Metal Building, Petco Park
Tropical Depression, Polar Void (Jeans Wilder), DJ Lethal Ethan @ Whistle Stop
Common Sense, Labour of Love @ Belly Up
Kisses, Butterfly Bones, Rafter @ Soda Bar
Cardiac Kidz, the Last Years, the Answers, DJ Miggs @ Tower Bar
Death Crisis, Life Crisis, Think Twice, Social Spit @ The Yard (17th Street near Imperial Avenue, all-ages, 4-9 p.m.)
Hard Fall Hearts, the Hellions, Zombie Cartel @ the Shakedown
Shannon and Thee Clams, the Mean Jeans, Therapists, Clean Cut DJs @ Til Two Club
The Syndicate (CD release), Roswell That Ends Well, the Pink Boombox Burlesque, Comedian Gordon Downs @ Ruby Room
DJ Artistic @ Bar Pink
The Queen's Guard, Thunderado @ Eleven
The Deadly Syndrome, Gun Runner @ The Loft
Feel the Noise, featuring Blondtron, DJs Gabe Vega & Randy Vission @ U-31
Circa Survive, Drerg, Codeseven, Animals As Leaders @ House of Blues
Chris Trapper, Shawn Rohlf @ Lestat's
The Heroes @ Belly Up (happy hour, 5:30 p.m.)
Big Vinny, Symbolic (CD release), Audio Violence @ Brick By Brick
Wise Monkey, Boom Culture @ Winston's
Tom Russell @ AMSD (Acoustic Music San Diego)
Anson, Hevy Rotation, 321 Stereo, Boombox Renaissance @ 710 Beach Club
Heart of the Hero, Southern Lights, In an Emergency, Capsize, Gentlemen Prefer Blondes, Florentine Camerata @ Epicentre
A Skylit Drive, Motionless in White, For All Those Sleeping, Woe Is Me, Scarlett Ohara @ Soma
Incomplete Neighbor, A Scribe Amidst the Lions, Irradio, Children of Nova @ Che Cafe
Dive Bomber @ Pure Platinum (Kearny Mesa)
Under the Stone, Backslot, Oversoul, the Start Ups, Trac @ Dreamstreet
Todo Mundo @ Humphreys Backstage Lounge (5-7 p.m.)
Atomic Groove @ Humphreys Backstage Lounge
Dueling Pianos @ Donovan's Circle of Fifths
David Sanborn @ Anthology (early show, 7:30 p.m.; late show, 9:30 p.m.)
Nomads Dinner Show, featuring Danyavaad and the Shimmy Sisters @ Portugalia
Sandollar, DJ Lya @ Gallagher's
John Foltz @ The Marble Room
Art: Industry Showroom @ Sudden Art Gallery (345 6th Ave,, 6-11 p.m., complementary drinks)
Fetish Friday, featuring Hyena, DJs Melo and Mac Luv @ Fluxx
The Egyptian Lover Jamie Jupiter, Arabian Prince, DJs Vaughn, Avakian and Mateo @ Kava Lounge
Rosemary Bystrak writes about the San Diego music scene, events, and sometimes whatever creeps into her head on her music blog San Diego: Dialed In. Check it for even more listings. She also provides social media content for the Casbah. Follow her updates at twitter.com/sddialedin or submit your music listings.