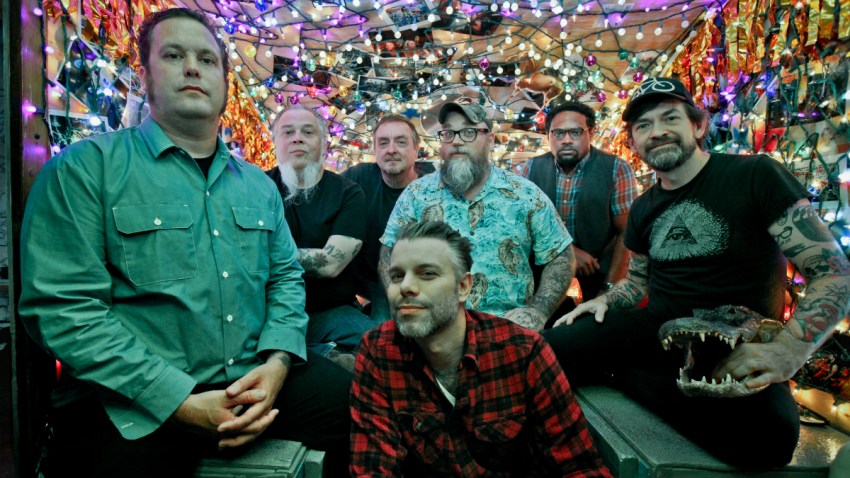 If you love Americana or songs with a country-music bent, tonight is made for you. At the Belly Up, a rock band you might hear on the Outlaw Country stations, Lucero, returns to San Diego (read the SoundDiego interview with the band here). If you're a fan, however, you already knew that, because I've never seen more diehard fans for any band than Lucero. At the Observatory, you can get a full dose of country with Sturgill Simpson, who's been called "Waylon on acid" and "the savior of country music." Of course, there are other awesome shows tonight, including Rise Against at SOMA, Allison Weiss at the Casbah, and RAC and Big Data are in town at the Music Box, a show that was moved from the Observatory (read the SoundDiego interview with that band here). Show time on that show has been moved to 8 p.m. so you don't have to worry about such a late night after all.
Sunday, Nov. 22:
An Evening with Lucero @ Belly Up
Allison Weiss, Mal Blum, Winter, Kid in the Attic @ Casbah
Sturgill Simpson, Billy Wayne Davis @ The Observatory North Park (6 p.m.)
RAC & Big Data, Filous, Karl King @ Music Box (moved from Observatory)
Rise Against, Killswitch Engage, letlive @ SOMA
Kate Boy, Morly, Inspired and the Sleep @ Soda Bar
Cruz Radical, Death Eyes @ Whistle Stop
DAY MVS with Thomas Jack, Bag Raiders @ Quartyard
Rat Sabbath @ Bar Pink
Jazz guitar legend Mundell Lowe @ Dizzy's
Neave Trio @ California Center for the Arts Escondido
New Found Glory, Yellowcard, Tigers Jaw @ House of Blues
Record/Zine/Book SWAP with Marrón, New Ruin, Dead Ghosts, XhendriX @ Che Cafe (2 p.m.)
Poway Symphony Orchestra Presents Brahms-Beethoven Masterpieces @ Poway Center For The Performing Arts
Pants Karaoke @ The Hideout
Heavy Blog Is Heavy presents Sirens, the Fine Constant @ Brick By Brick
L.A. Edwards, Ves Frank @ Sycamore Den
Caroline Corn, Phoebe Bridges @ Lestat's
Dave Good's Jazz Jam @ Java Joe's (2 p.m.)
Open mic Hosted by Isaac Cheong @ Java Joe's (6:30 p.m.)
The Back Room with DJ Heather Hardcore @ The Merrow
Reggae Sunday with Layne Tadesse, 7 Seal Club, Kill Babylon Coalition @ U-31
Salsa Sundays @ Tio Leo's
Hank Easton @ Croce's Park West (noon)
Danny Green Trio @ Croce's Park West (6 p.m.)
Jason Brown @ Humphrey's Backstage Live (10 a.m.)
JJ Sansaverino @ Humphrey's Backstage Live (8 p.m.)
The Devfits (Rob Crow), Hot Damn Sextet, Shades McCool & the Bold Flavors @ Tower Bar
Doug Grean, The Terpsichords @ Winston's (5:30 p.m.)
Jose Sinatra's OB-o-ke @ Winston's
Open Mic Comedy @ Til-Two Club
LA Indie Rock Showcase with Egrets on Ergot, Inner Ecstasy, Gnarvana & Grit @ Kava Lounge
Reggae Sunday @ Spin
Sunday Funday Karaoke @ 710 Beach Club
Rosemary Bystrak is the publicist for the Casbah and writes about the San Diego music scene, events and general musings about life in San Diego on San Diego: Dialed In. Follow her updates on Twitter or contact her directly.