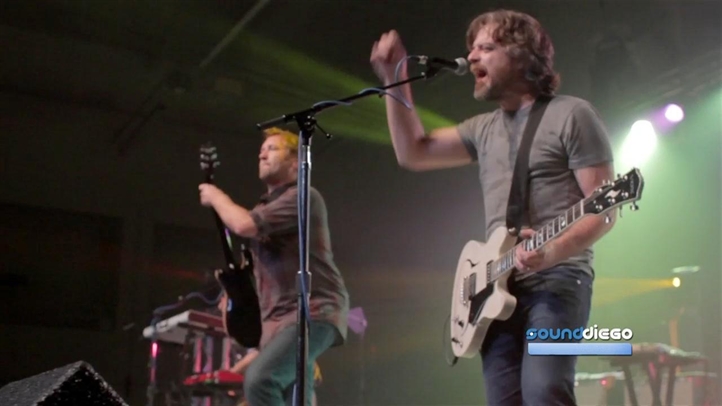 Earlier this week, I told you that shows, particularly by touring bands, would begin to slow down, but Saturday is here to prove me wrong. There are so many great shows that the biggest problem will be choosing which one or ones to attend. At the Observatory, Minus the Bear are in town for their Menos el Oso tour. I might be wrong, but I think this will be the largest room Murder By Death has ever played in San Diego, since their shows are almost always at the Casbah or Belly Up, and having them and Aero Flynn as support definitely helps make this a desirable destination for the night. However, We Were Promised Jetpacks -- the lads from Edinburgh -- are at the Irenic for an all-ages show, which will certainly rock. Those of us who came up in the '90s must also feel a little soft spot for Everclear at Music Box, where the band will be celebrating 20 years of "Sparkle and Fade." Holly Golightly is at the Casbah, Dreamers are at the House of Blues Voodoo Room, Steve Poltz is at the Poway Center for the Arts, and Mr. Little Jeans is at Soda Bar. That is some serious stuff to sift through. Maybe you should just roll the dice.
Saturday, Nov. 21:
We Were Promised Jetpacks, Seoul @ The Irenic
Minus the Bear, Murder By Death, Aero Flynn @ Observatory North Park
Everclear, Hydra Melody @ Music Box
Holly Golightly, the Loons, Dani Bell & the Tarantist, Madly @ Casbah
Steve Poltz, Cody Lovaas @ Poway Center for the Arts
Dreamers, Systems Officer, Scuffs @ House of Blues Voodoo Room
Reggae Fest, with Iration @ Del Mar Thoroughbred Club
Author & Punisher, Muscle and Marrow, Skrapez, Hexa @ The Hideout
Mr. Little Jeans, Soren Bryce @ Soda Bar
Neon Beat: The Best and Worst of the '80s @ Bar Pink
Cash'd Out @ El Cajon Grand
Emancipator Ensemble, Blockhead, Manatee Commune @ Belly Up
'80s vs. '90s, with DJs Gabe Vega & Saul @ Whistle Stop
DJ Le Silence de LaRue @ Whistle Stop (5 p.m.)
Joey & the Mentals, Trevor McSpadden @ Black Cat
Carmen by George Bizet @ California Center for the Arts, Escondido
Dia de los Ancestros @ California Center for the Arts, Escondido
Velvet Club, Sound Lupus, Artmonk @ The Balboa
Cherub @ House of Blues
The Peter Sprague Group @ Dizzy's
So Chan Hwee @ Harrah's Resort Southern California
Ansolo @ Omnia
Allison Lonsdale and Eben Brooks @ Lestat's (6 p.m.)
Raelee Nikole and Patrick Joseph @ Lestat's (9 p.m.)
Bushwalla and Friends @ Java Joe's
Eli & Fur @ Bang Bang
The Art of The Solo @ The Loft
Infinite Death, Gravespell, Imbalanced, Sergulath @ The Merrow
The Darks of Heaven @ The Bancroft
Alan Iglesias & Crossfire @ Tio Leo's
Mark Fisher @ Croce's Park West (12 p.m.)
Curtis Taylor @ Croce's Park West (7 p.m.)
Tradewinds @ Humphreys Backstage Live (5 p.m.)
Pop Vinyl @ Humphreys Backstage Live (9 p.m.)
Mari Black @ San Dieguito United Methodist Church Hall
Detroit Ruins, Jimmy Lewis Band @ Winston's (5 p.m.)
Polyrhythmics, Jelly Bread @ Winston's (9:30 p.m.)
San Di=a=Go=Go @ Til-Two Club
Savi @ Fluxx
Purps and Turqs @ Kava Lounge
Roman Watchdogs, Oddball, Midnight Track @ 710 Beach Club
SD Union, with Aphrodite, Bachelors of Science @ Spin
Rosemary Bystrak is the publicist for the Casbah and writes about the San Diego music scene, events and general musings about life in San Diego on San Diego: Dialed In. Follow her updates on Twitter or contact her directly.