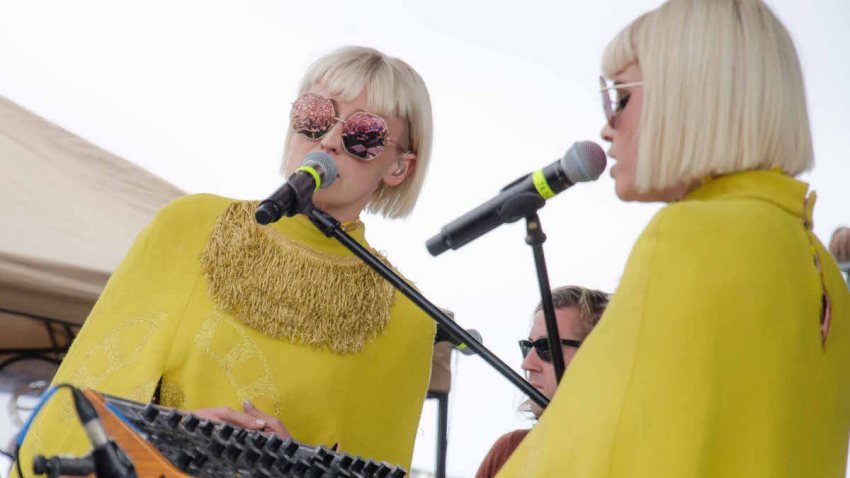 Music is amazing, but it can also be heartbreaking. I have plenty of friends who, if given the chance, would be in multiple places at the same time tonight, but pulling a multi-show night is complicated. So tonight, pick one and be stoked that we have so many amazing choices. The lovely and talented Lucius are returning for their fourth time to San Diego, and their performance gets better each time. They'll be at the Belly Up with the Cactus Blossoms. Meanwhile, at Poway Center for the Arts, Neko Case, whose solo career is as prolific as her band the New Pornographers, will impress and mesmerize as she always does. Then, there's the sold out Gogol Bordello show at the Observatory, Slow Club and Red Pony Clock are at Soda Bar and Moon Hooch will wow at Music Box. This is the kind of night I'd expect in summer, so get out and enjoy it before the holidays suck the touring life out of your favorite artists.
Saturday, Nov. 19:
Lucius, the Cactus Blossoms @ Belly Up
Neko Case, Eric Bachmann, Jon Rauhouse @ Poway Center for the Arts
Moon Hooch, Honeycomb @ Music Box
Night Beats, Mystery Lights, Warbly Jets @ Casbah
Gogol Bordello @ Observatory North Park (SOLD OUT)
Slow Club, Red Pony Clock @ Soda Bar
Lukas Graham, Hein Cooper @ House of Blues
Josh Damigo, Trish Naval @ Lestat's
The Phantoms, Fanny & the Atta Boys @ Black Cat Bar
Iration, Through the Roots @ Del Mar Racetrack
Neon Beat: Best & Worst of the '80s @ Bar Pink
Jason Lee & the R.I.P. Tides, Fake Tides @ Til-Two Club
Studio 54 Disco Inferno w/ DJ Claire @ Whistle Stop (5 p.m.)
'80s vs. '90s w/ DJs Saul & Gabe @ Whistle Stop
Geoff Muldaur & Jim Kweskin @ AMSD, Sweetwater Union High School
Through Being Cool: Emo Night @ Blonde
Shell Shock, DJ Chelu @ The Holding Company 1502
Groove International @ Voodoo Room, House of Blues
Vanishing Life, Super Unison, No Sympathy @ The Hideout
Diego El Cigala, Master of Flamenco @ Jacob's Music Center at Symphony Hall
Will Daley @ Brick15
Black Mambo @ Dizzy's
Shane Secor @ The Bancroft
With Age, Refuse, Taliband, Head Change, the Dangerfield, Ignant Benches @ Soma
Beat Street @ Quartyard
Midnight Circus @ The Irenic
The Paper Hearts, Transistor, the Ex Gentlemen, Dead on the Wire @ Tower Bar
The Floozies @ Winston's (9 p.m.)
The Experiments, Making Incredible Time, the Filthy Casuals @ Winston's (6 p.m.)
Crematorium, Thanatology, Bonebreaker, Orphic Eye, Tower Guard @ Brick by Brick
Noelle & Gonzalo, Golden Hour @ Java Joe's
The Sound of Music @ San Diego Civic Theatre
La Traviata @ California Center for the Arts Escondido
Headstone, King Bloom, Frontside, Andy's Room, Old Notes, Generally Speaking @ Che Cafe
Hell on Heels: The Naked Lady Buffet Variety Show @ The Merrow
Skanks Roots Project, Boostive @ 710 Beach Club
Chad & Rosie @ Tin Roof
West Side Story Sing-a-long: Cinema @ The Balboa
Kicks @ V Lounge, Viejas Entertainment
Adam Salter @ El Dorado
The Red Elvises @ Tio Leo's
Michele Lundeen @ Humphreys Backstage Live (5 p.m.)
Funk's Most Wanted @ Humphreys Backstage Live (9 p.m.)
Twista & Chachi @ Fluxx
Gladiator @ Bassmnt
Vice @ Omnia
Mat.Joe @ Bang Bang
Dragon Lounge Reunion @ Kava Lounge
Rockstar Saturdays @ Henry's
Rosemary Bystrak is the publicist for the Casbah and writes about the San Diego music scene, events and general musings about life in San Diego on San Diego: Dialed In. Follow her updates on Twitter or contact her directly.