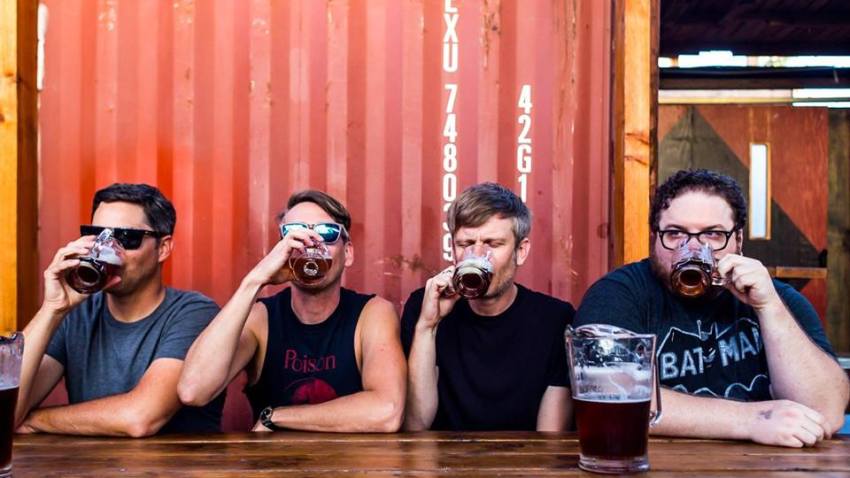 OK, so, technically, it's only Dos de Mayo, but we like to make holidays work for us, so let's call it Cinco de Mayo weekend and you can snicker and sneer at anyone who thinks they're celebrating Mexican Indepence Day because you're smarter than them, and once you've filled your belly with adult slushies, you can gear up for some awesome shows in town. The always-amazing Tennis return to town with a sold-out show at the Irenic, and Kodak to Graph would really love it if they got your attention at the Casbah. Pictureplane rolls through Soda Bar, and you can get down to the amazing rock en Espanol of Kinky at the Observatory North Park. Nevermind that there's some boxeo on Saturday, because our SoundDiego cohort Dustin Lothspeich is rocking the Balboa, and we'll forgive the migration of a few hundred San Diegans to the amazingly curated In-Ko-Pah Festival in the desert. This is going to be a great weekend, so get out and get some aural pleasure.
Saturday, May 2:
Tennis, The Shilohs @ The Irenic (sold out)
Fiesta Old Town Cinco De Mayo Celebration @ Old Town
Kodak to Graph, Obeson, Mystery Cave @ Casbah
Pictureplane, Daimon, Angels Dust, Le Chateau @ Soda Bar
Kinky, Daniela Spalla @ Observatory North Park
Diamond Lakes, the Dabbers @ The Balboa
In-Ko-Pah 2015 Festival, featuring the Loons, Playboy Manbaby, the Mission Creeps, the New Kinetics, the Long and Short of It, Lightning Starts Fire, Schitzophonics, the Fink Bombs @ In-Ko-Pah
Chuckie @ Omnia
Latin Food & Wine Festival @ The Events Center, Harrah's SoCal Resort
Solana Beach Bash @ Belly Up (4-8 p.m.)
80's Prom Night @ Belly Up (9 p.m.)
Janis Ian @ AMSD Concerts
Berkley Hart Selis Twang and Berkley Hart @ San Diego United Methodist Church Sanctuary
People Under the Stairs, MC Jin @ Porter's Pub, UCSD
Tainted Love @ House of Blues
FiLiBuStA, Warp9, DJ OSM @ House of Blues, Voodoo Room
San Diego City Soul Club 2 Year Anniversary @ Til Two Club
Fast Heart Mart @ Across the Street at Mueller College
Dirty Taxi @ Mr Peabody's
Rock & Roll Farewell for Christopher Leahey@ Brick By Brick
Bad Penny & the Pistols @ Java Joe's
Mark Fisher @ Croce's Park West (12 p.m.)
Teagan Taylor @ Croce's Park West (7 p.m.)
Temple of the Dad @ Humphrey's Backstage Live (5 p.m.)
City Lights @ Humphrey's Backstage Live (9 p.m.)
Electric Waste Band @ Winston's
Reflex @ Fluxx
Slander @ Bassmnt
Dr Fresch @ Bang Bang
Detroit Underground @ Tio Leo's
Brewfish @ Boar Cross'n
Australia's Thunder From Down Under @ Sycuan
Rosemary Bystrak is the publicist for the Casbah and writes about the San Diego music scene, events and general musings about life in San Diego on San Diego: Dialed In. Follow her updates on Twitter or contact her directly.