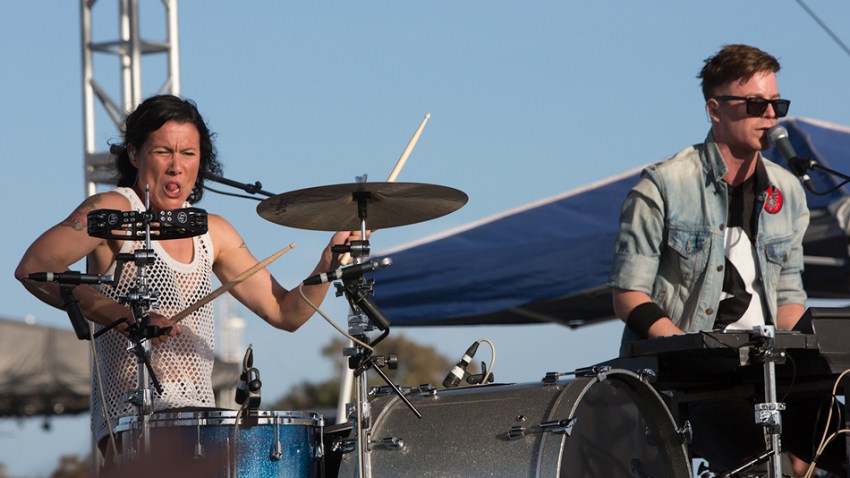 Friday will be a battle of the confetti machines, as Matt and Kim at the Observatory North Park go head-to-head with the viral video masters of OK Go. Both offer fun and sometimes interactive performances with their audiences, though Matt and Kim might have the edge for the number of simultaneous media placements they have at the moment. At the Casbah, the Soft Moon perform, while rock vatos Manic Hispanic play Soda Bar. If you need an all-ages show, Runaway Brother play at Gym Standard, a shoe store on El Cajon Boulevard.
Friday, May 1:
Matt and Kim, Waters @ The Observatory SD (sold out)
OK Go, Kitten @ House of Blues
The Soft Moon, Skull Katalog @ wwwwww.casbahmusic.com
Manic Hispanic, Sculpins, Shady Francos @ Soda Bar
Runaway Brother, Future Crooks @ Gym Standard (2903 El Cajon Blvd, all-ages)
Calvin Harris @ Omnia
DJ Crooked and French Montana @ Parq
Steven Ybarra (CD release and video screening) @ Valley View Casino Center (Stella Artois Lounge)
Rob Whitlock & the Four @ Dizzy's
Wicked Tongues, Permacrush, Cold Craft, Union Trade @ Brick By Brick
Billy Shaddox, Rookie Card @ Lestat's
Choro Sotaque, Daniel Ondaro, the Shy Birds @ Java Joe's
Mittens, the Touchies, Bangladesh @ The Merrow
Hip-Hop vs Punk Rock @ Tower Bar
Kevyn Lettau with Glen Fisher & John Opferkoch @ Croce's Park West
The Reflectors @ Humphrey's Backstage Live (5 p.m.)
Pop Vinyl @ Humphrey's Backstage Live (9 p.m.)
Luck n Lana, DJ Nykon and Sighphur One, Mantis, DJ Product with Micah and Destructo Bunny @ Winston's
Hazzard's Cure, Hedersleben @ Til-Two Club
The South, Voltage Control, Mainsail, Triceratropical, Empty Spaces, the Kraycos @ SOMA
Craig Smoove @ Fluxx
Junior theDISCOpunk @ Henry's Pub
Leon's Old School @ Tio Leo's
Jesse Rose @ Bang Bang
Moves @ 98 Bottles
Jo S, DJ Dara, DJ Nightstalker @ Kava Lounge
Club Musae @ Boar Cross'n
Mario, DJ Brock, DJ Groveboy @ Spin
Bouillet, Fred Barchetta, Like Mind Protocol, RDG @ Ramona Mainstage
Rosemary Bystrak is the publicist for the Casbah and writes about the San Diego music scene, events and general musings about life in San Diego on San Diego: Dialed In. Follow her updates on Twitter or contact her directly.