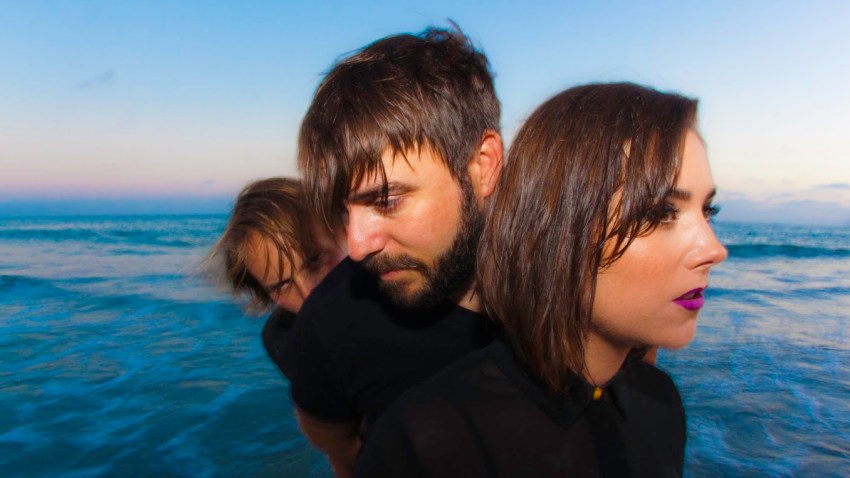 I don't usually feel like I have to give any disclosure here. My life is so weaved into the music and bands of San Diego, that any bias is pretty clear. That being said, I am longtime friends with Frank Green and Erik Visnyak of Chateau and I'm so excited about their latest project, Chateau. Tonight the band celebrates their EP release tonight at the Balboa, which means you can kill two birds with one stone: if you haven't yet seen the band, this is your chance. And if, like me, you haven't seen the Balboa since it changed from the Tin Can, this is another great opportunity. Of course, there are other worthy shows around town: Mrs. Henry at Casbah, an Experimental Guitar Show at Soda Bar, and even Mac Sabbath playing at Ramona Mainstage -- and a whole bunch of shows in between.
Saturday, March 21:
Chateau (EP release), Angels Dust @ The Balboa (formerly Tin Can)
Mrs. Henry, Schitzophonics, the Paragraphs, Erik Canzona & the Narrows @ Casbah
San Diego Experimental Guitar Show feat. Michael Crain Joileah Concepcion, All The Pretty Horses, Steve Flato, Hirsch the Machine Hirsch @ Soda Bar
Neon Beat: The Best & Worst of the '80s @ Bar Pink
An Evening with Railroad Earth @ Belly Up
San Diego Sings feat. Choral Consorium of San Diego @ Organ Pavilion (Free, All Ages, 11 a.m.-5 p.m.)
Old Town Temecula Bluegrass Festival 2015 feat. Dan Crary, the Barefoot Movement, Sligo Rags, Salty Suites, Bluegrass Etc., *silverado*, and Central Valley Boys @ Temecula
Treaded, Zone 7, Victimized, Vile Creations, Raise the Guns @ Epicentre
John McCutcheon @ San Dieguito United Methodist Church
Local Brews, Local Grooves feat. the Kellers, Brad Perry, the Battlefield, Redwave Seawall, the Jackstones, the Deep Joint, Mike Wojniak, DNT, the Verigolds, Star Party, From the Cold @ House of Blues
Lee DeWyze, Traces, Savannah Philyaw @ House of Blues, Voodoo Room
Tribe of Kings @ The Hideout
Jay Chu @ Wine Lover
Punk Rock Karaoke: Sic Waiting, Implants, Torches to Triggers @ Brick By Brick
Mac Sabbath @ Ramona Mainstage
Allison Lonsdale and Eben Brooks @ Lestat's (6-8 p.m.)
Jessica Bell, Trace Jory, Joseph Carroll @ Lestat's (9 p.m.)
Lisa Sanders @ Java Joe's
Bakermat @ Bang Bang
'80s vs '90s Gabe Vega vs Saul @ The Whistle Stop
Misc. Ailments, Forebear, Project Analogue @ The Merrow
Club Therapy @ The Bancroft
Fashion Whore with DJ Maystar, DJ Qenoe @ U-31
Patrick Berrogain @ Croce's Park West (noon)
Coast Bop @ Croce's Park West (7 p.m.)
Breez'n @ Humphrey's Backstage Live (5 p.m.)
Pop Vinyl @ Humphrey's Backstage Live (9 p.m.)
DJ Juliancito, Monster Mike and Mike Garcia @ Tower Bar
The Travel Agents @ Winston's (5-8 p.m.)
Sister "Bam Bam" Nancy with Dub Bandalero @ Winston's
Bizarre, Jackie Chain & King Lil G @ Porter's Pub
Amerikan Bear, Sycamore @ Til-Two Club
Tropicana w/Karma @ Fluxx
Cash Cash @ Bassmnt
KL Noize Makers, DJ Chelu @ Gallagher's Irish Pub
Sol Seed, Burning Wave @ Boar Cross'n
Full Strength Funk Band @ Tio Leo's
Rosemary Bystrak is the publicist for the Casbah and writes about the San Diego music scene, events and general musings about life in San Diego on San Diego: Dialed In. Follow her updates on Twitter or contact her directly.