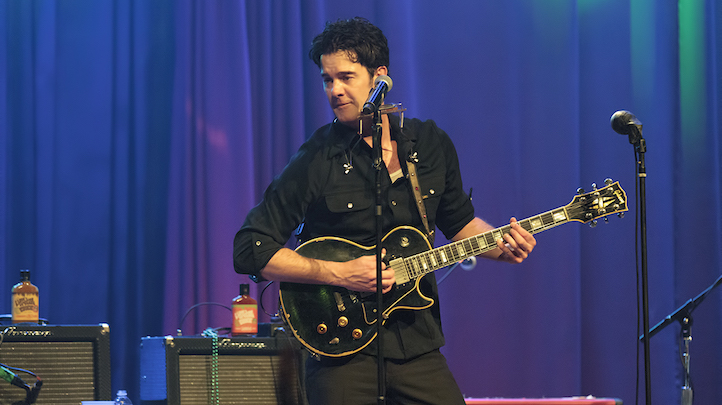 The last time the local ladies of the scene took to the
Casbah
stage to perform the Kate Bush dance party, I happened to be sick. I was sitting at home and seeing Instagram and Facebook posts of the night, and I experienced some harsh FOMO. Performed by local musicians Natasha Kozaily, Shelbi Bennett, Dani Bell, Lexi Pulido, Nina Deering, Batya MacAdam-Somer, Leah Bowden and Nancy Ross, the second time around will be even better than the first ... or so I'm told. At the
Belly Up
, G. Love performs a second night; HalfNoise, a project featuring Zac Farro (Paramore's former drummer), play at Soda Bar; and black metal band Wolves in the Throne Room headline Brick by Brick.
Sunday, March 11:
Kate Bush Dance Party @ Casbah
G. Love & Special Sauce, Ron Artis II & the Truth @ Belly Up
Halfnoise, the Gloomies @ Soda Bar
Wolves in the Throne Room, Chrch, Abyssal @ Brick by Brick
The Big Decisions @ Sycamore Den
Karla Bonoff @ Museum of Making Music
The Heritage Ranch Jam Open Mic with featured artist Heather Marie of Podunk Nowhere @ Heritage Ranch (450 Quail Gardens Dr., Encinitas, 11:30 a.m.-4 p.m.)
A Celebration of Leonard Bernstein featuring David Shifrin on clarinet, Dominic Armstrong on tenor sax, Zorá String Quartet and Jiacheng Xiong on piano @ La Jolla Athenaeum
Robert Stevenson of A Silent Film, I Am Strikes @ Voodoo Room, House of Blues
Guerra de Chistes: Gira del Adios @ House of Blues
Ethan Bortnick @ Music Box (2 p.m.)
The Buddy Holly Story @ Sycuan Casino (2 p.m. & 7 p.m.)
The 3 with Doc Hammer @ Bar Pink (8 p.m.)
Rat Sabbath with DJ Ratty @ Bar Pink (10 p.m.)
The Playground: Sunday Night Dance Party @ The Merrow
Showstoppers Talent Contest @ The Merrow
Alexis Diller, Patrick Collins @ Lestat's
Blues Kitchen @ Bancroft Bar (2 p.m.)
Masters of Hawaiian Music featuring George Kahumoku Jr., Led Kapaana, Jeff Peterson @ California Center for the Arts, Escondido
Ria Carey and Don L. @ Martini's Above Fourth
The Nth Power and Guests @ Winston's (6 p.m.)
Guantanamo Baywatch, No Parents, Honey Pots, Sixes @ Blonde
Whit Aadland Acoustic @ Pour House (1 p.m.)
JB & the Movers @ Pour House (9 p.m.)
Pants Karaoke @ Til-Two Club
Salsa Sundays @ Queen Bee's (all ages)
Reggae Sunday with Kush, ReggaePartySD, Good Over Evil Soundsystem @ U-31
Uptown Top Ranking with Special Guest Mr. Williamz @ The Office
Stellita @ Humphreys Backstage Live (10 a.m.-2 p.m.)
Underworld @ Navajo Live
GruvMatic @ Humphreys Backstage Live (7 p.m.)
Taylor Gang with Wiz Khalifa, Chevy Woods @ FLUXX
Reggae Sunday @ Spin
Broadway Boogie with the Luna Brothers @ El Dorado
Rosemary Bystrak is the publicist for the Casbah and writes about the San Diego music scene, events and general musings about life in San Diego on San Diego: Dialed In. Follow her updates on Twitter or contact her directly.