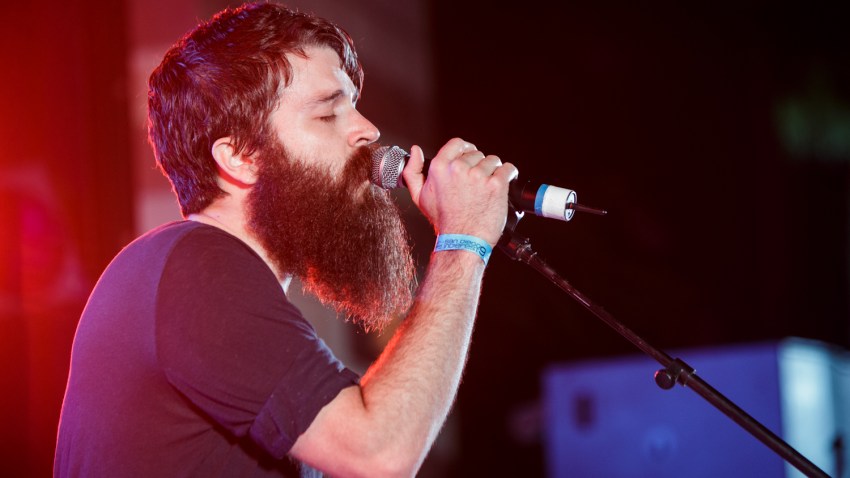 There's so much fun stuff to do tonight, it's gonna be hard to decide where to go. At Space, you can catch Brooklyn rock duo She Keeps Bees or head to the Casbah to catch Silent, described as "a Mexicali-reincarnated Nick Cave." Belly Up welcomes one of my faves, Dead Feather Moon, and Jacuzzi Boys blast the roof off Soda Bar. All that said, I'm leaning toward Music Box where ListenSD is hosting quite an eclecticly curated art and music show, or to Museum of Contemporary Arts San Diego where A Ship in the Woods is presenting a pretty awesome event with our buddy Island Boy headlining. Clearly this is going to be a pretty awesome Thursday night all around.

Thursday, June 29:
She Keeps Bees, Los Shadows @ Space
"eXit pARTy: Changing Tides," music curated by A Ship in the Woods feat. Island Boy, DJs Ana Brown, Yaya Skinbyrd SkuTech @ MCASD Downtown
Silent, Hexa, Body Song, Pall Jenkins @ Casbah
Dead Feather Moon, Nancarrow, Sights and Sages @ Belly Up
ListenSD Presents: The Mud Howlers, Ethics, Fake Tides, Dream Tides, Real J Wallace, DJs Tealideal & Abjo (of Soulection) @ Music Box
Jacuzzi Boys, Creepseed, Subtropics @ Soda Bar
Westgate Rooftop Jazz Series with Coral Macfarland Thuet @ Westgate Pool
Concerts at the Cove with Nate Donnis Trio @ Fletcher Cove
My Revenge @ Bar Pink
Leann Rimes @ Grandstand, San Diego County Fair
Iliza Shlesinger @ The Observatory North Park (SOLD OUT)
Gonzo, Louie Castile, Aloha Radio, DJ Carlos Culture @ The Holding Company 1502
Wyatt Blair's Lolipop Records Night with Gabbi Green, Wyatt Blair, Color TV @ Blonde
Sick Balloons @ Maryjane's Underground, Hard Rock Hotel
Hocus, the Pictographs, Romaan Watchdogs @ Pour House (Oceanside)
Burlesque Boogie Nights @ Sycamore Den
VAMP/Living With Sin @ Whistle Stop
Inanimate Existence, Reaping Asmodeia, Cyborg Octopus, Suntorn @ The Merrow
Singing Circle with Cici @ Java Joe's
Boom Boxx Thursdays @ U-31
Jerry Hot Rod Demink @ Crossroads, House of Blues
Groove Squad @ Humphreys Backstage Live
Karaoke with Goldilox @ Tower Bar
Emile Welman, MAYA @ Martini's Above Fourth
Jimmy Ruelas @ Seven Grand
Hugh Davies presents Francis Bacon: The Late Works @ La Jolla Athenaeum
Maruak & Raggabond @ De Oro Mining Co
Those Darn Gnomes, Dischordia, Fadrait @ The Bancroft
Throwback Thursday with DJ Abel @ Moonshine Beach
Open Jam Session @ Winston's (6-9 p.m.)
Modern Day Moonshine, Suanios @ Winston's
Jeff T Smith (of Living Body), Kenseth Thibideau, the Strawberry Moons, Rooney Anne James @ Til-Two Club
No Limits with DJMysonKing @ The Office
Fifth Thursday @ El Dorado
Rock Out Karaoke @ Tin Roof
Tango Thursdays @ Queen Bee's
Night Skool @ Henry's Pub
Open Jam with Jeff Ousley @ Navajo Live
Rockin' Aces @ Tio Leo's
Caliber @ Lobby Bar, Viejas Casino
Liquid Courage Karaoke @ 710 Beach Club
Deejay Al @ Oxford Social Club at the Pendry
Rosemary Bystrak is the publicist for the Casbah and writes about the San Diego music scene, events and general musings about life in San Diego on San Diego: Dialed In. Follow her updates on Twitter or contact her directly.