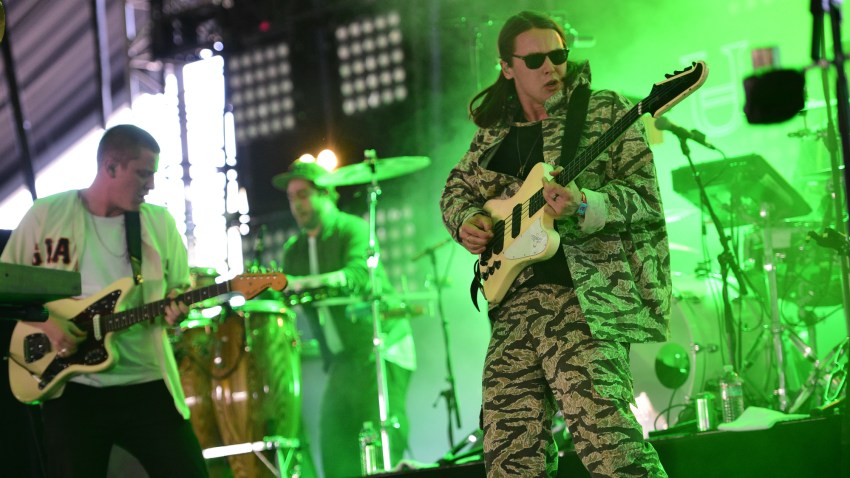 Like most people, I have a few select friends whose musical opinions I respect immensely. When these tastemakers all show up in my Facebook feed gushing about a musical act, I pay attention. So it has been for the past few months with regard to Jungle. One of my industry friends declared that "seeing Jungle never gets old," while another said, It gets better every show." The band performed at Coachella this year, and Monday are playing for San Diego at the Observatory North Park. There are still some tickets available, and this will probably be one of those shows you'll regret missing. Around town, old-school punkers Gang Green play at Soda Bar, while Katy Guillen & the Girls headline the Hideout, and DJ Artistic hosts another Hip-Hop Battle Bot at the Casbah.
Monday, June 22:
Jungle @ Observatory North Park
Gang Green, Santa Claus, Christ Killer, Shark Blood @ Soda Bar
Katy Guillen & the Girls, Karina Frost & the Bandovloon, Viva Apollo @ The Hideout
DJ Artistic's Hip-Hop Battle Bot with Abstract Rude @ Casbah
Scott Bradlee's Postmodern Jukebox @ Belly Up (SOLD OUT)
Soultry Monday with Tori Roze & the Hot Mess @ Bar Pink
Makossa Mondays @ Seven Grand
Ronnie Lane & the Blues Rustlers @ Tin Roof
All Vinyl Night @ Park & Rec
Mark Fisher @ Croce's Park West
Rewind Mondays @ House of Blues
Mic Check Mondays with Lit One, Destructo Bunny @ Gallagher's
Velvet Cafe @ Alexander's (30th & Upas)
Metal Mondays with Mouth of the Serpent, So This Is Suffering @ Brick by Brick
Missy Andersen @ Humphrey's Backstage Live
Wheels of the Industry @ Live Wire
The Ravagers, Dead on the Wire, the Scandals & the Semi-Automatics @ Tower Bar
Electric Waste Band @ Winston's
Acoustic Night/Industry Night @ Henry's Pub
Industry and local night with DJ RoyAle and friends @ 710 Beach Club
Rosemary Bystrak is the publicist for the Casbah and writes about the San Diego music scene, events and general musings about life in San Diego on San Diego: Dialed In. Follow her updates on Twitter or contact her directly.