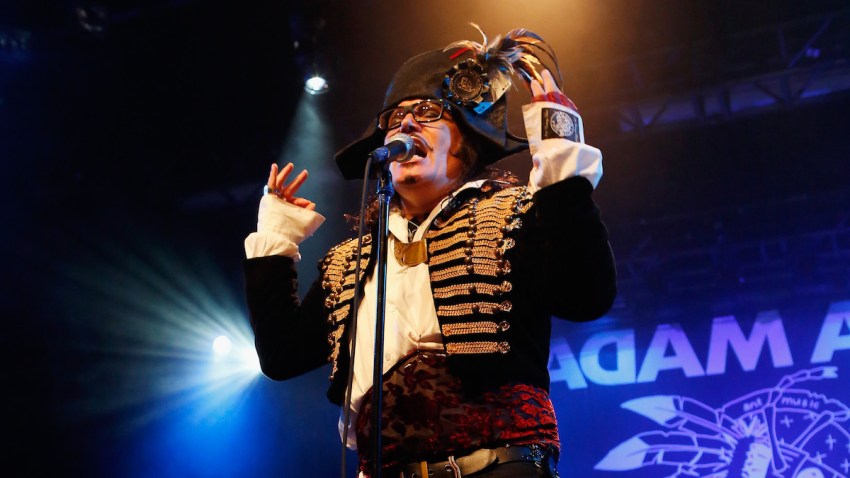 When I was growing up, my older cousin was obsessed with Adam Ant. She'd come to our house with one dangly earring, her hair dyed black, wristbands, black layered clothes and hair styled with far too much gel. Eventually she moved far away and I don't see her as much, but I can never hear Adam Ant without thinking of her. Last year, he played the Observatory and the buzz after the show was hard to avoid, so you might want to make sure you're at Humphreys when he returns tonight. Around San Diego, krautrock legends Faust play at the
Casbah
, Soda Bar brings doom to your ears with the Body, and 311 and the Offspring co-headline Mattress Firm Amphitheatre.
Sunday, July 29:
Adam Ant: the Anthems Tour, Glam Skanks @ Humphreys Concerts by the Bay
Faust, Featherstone, Duuns @ Casbah
The Body, Lingua Ignota, Solve, OAA @ Soda Bar
311, the Offspring, Gym Class Heroes @ Mattress Firm Amphitheatre
Beethoven by the Bay @ Embarcadero Marina Park South
Shawn Mullins, Max Gomez @ Music Box

Easy Star All-Stars @ Dive, Harrah's SoCal Resort
Andrea Motis Quintet @ La Jolla Athenaeum
Breakthru Entertainment @ Voodoo Room, House of Blues (6 p.m.)
Yoga Pool Party @ Lafayette Hotel, Swim Club & Bungalows
San Diego Gay Men's Chorus Abba: Greatest Hits! @ Balboa Theatre (3 p.m.)
Chase Morrin Quintet @ Dizzy's
Mochilero Allstars @ Bar Pink (8 p.m.)
Rat Sabbath @ Bar Pink (10 p.m.)
Aseptic, Skulls, Chemical Slaughter, Mortar @ Tower Bar
Question? No Answer @ Bancroft Bar
Ria Carey and Don L. @ Martini's Above Fourth
Snake Oil Gypsies @ Winston's (2-5 p.m.)
Girls Night Out @ Winston's (7:30 p.m.)
The Playground: Sunday Night Dance Party @ The Merrow
Catechism: Darkwave @ Blonde
Whit Aadland @ Pour House (1 p.m.)
The Night Howls @ Pour House (9 p.m.)
Pants Karaoke @ Til-Two Club
Taipan, Hand of Fire, Contortion, Death Therapy, Convent @ Brick by Brick
Salsa Sundays @ Queen Bee's (all ages)
Reggae Sunday with Dub 8, Introspective Culture, DJ Red @ U-31
Uptown Top Ranking with Tribe of Kings @ The Office
Stellita @ Humphreys Backstage Live (10 a.m.-2 p.m.)
Grand Nova @ Navajo Live
Groove Squad @ Humphreys Backstage Live (7 p.m.)
Freshcobar, Lavelle Dupree, Euro Beard @ The Pool House, Pendry Hotel
Less Is More SD: Claudia Amprimo @ Spin (3 p.m.)
Sunday Is for the Girls featuring You and Yours @ El Dorado
Rosemary Bystrak is the publicist for the Casbah and writes about the San Diego music scene, events and general musings about life in San Diego on San Diego: Dialed In. Follow her updates on Twitter or contact her directly.