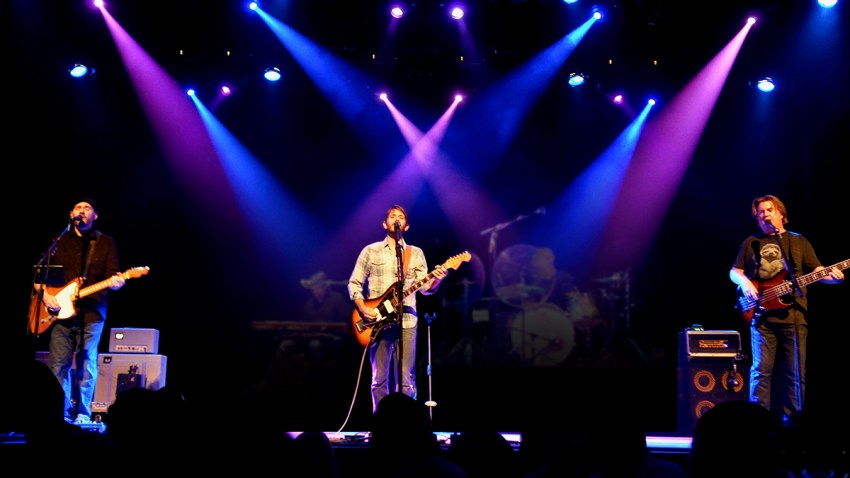 When I graduated high school, my girlfriends and I packed up a borrowed Volvo wagon, and headed up the California coast. We were taking a friend to Berkeley and opted for the scenic route. Toad the Wet Sprocket's "Dulcinea" was just released, and it became our roadtrip soundtrack. Over the years, the band has been relegated to adult contemporary radio, but their vast catalog is highly underrated and too often overlooked. Tonight the band plays the first of two nights at the Belly Up and tomorrow is already sold out, so you might want to make the effort to be at tonight's show. Around town, the Fixx play the Green Flash Concert Series; Hey! Ho! Lets Go! return for their monthly night at Bar Pink; and Holy Wave play the Whistle Stop.

Wednesday, July 18 (Comic-Con Preview Night):
Toad the Wet Sprocket, Megan Slankard @ Belly Up
Holy Wave, Spooky Cigarette, COMMANDc, DJ Andrew McGranahan @ Whistle Stop

The Fixx @ Green Flash Concert, Birch Aquarium
Hey! Ho! Lets Go! Ramones Tribute Band @ Bar Pink
Hip-Hop House's Anniversary Celebration ft. Blame One, 18 Scales, Odessa Kane, Parker Edison, and residents Kahlee, DJ Root & Karlo @ AC Lounge
Rosa's Cantina, EverForward, LucyAnna CalAmity @ Casbah
Anthony Green, Good Old War @ House of Blues
Instant Crush with Nastea & Miss Lady D @ The Office
Kauf, Wsprgrl @ Soda Bar
We Like 2 Party Wednesday: A '90s pop dance party! @ Space
Kahlil Nash @ Woodstock's Pizza SDSU
Nelson Mandela's Centenary Concert feat Peace Train Band @ WorldBeat Center
Escalera Sessions @ Bar Sin Nombre
Human Kitten and Just Nick @ SDCP
Gilbert Castellanos' Young Lions Series & Jazz Jam @ Panama 66
Dance Klassique with Joe Pea, Ryan Bauer, Gomez @ Blonde
Open Mic Night @ Pour House
Roots of A Rebellion, DJ Carlos Culture @ Winston's
John Rankin @ Ginger's at Barley Mash
Warpath, Fused @ Navajo Live
NuVintage @ Coyote Bar Carlsbad
Open Mic @ Midnight Jack
Open Mic with Jefferson Jay @ Winston's (6-9 p.m.)
Live Music @ Henry's Pub
Len Rainey @ Humphreys Backstage Live
Hobo Johnson & the LoveMakers, Ashe @ Music Box
Wu-Tang Wednesday with DJs Mr Hek & Cros1 @ El Dorado
Open Mic/Open Jam @ 710 Beach Club
Rosemary Bystrak is the publicist for the Casbah and writes about the San Diego music scene, events and general musings about life in San Diego on San Diego: Dialed In. Follow her updates on Twitter or contact her directly.