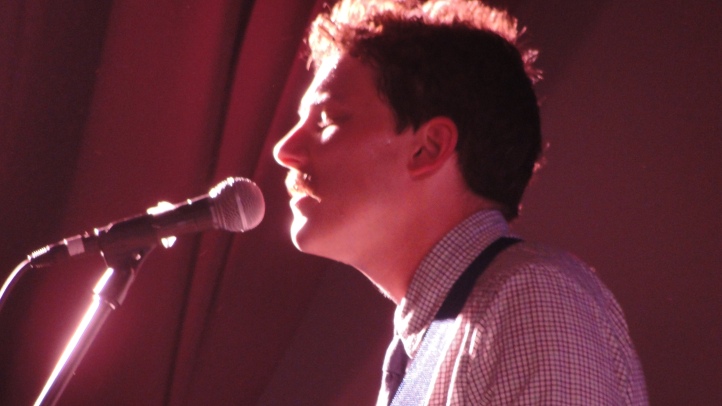 I'm so excited to be at the Casbah tonight. I'm sure you've probably never seen Flood Coats, but it's the new project of the Tree Ring's Joel P. West and Darla. Tree Ring has an enormous reputation for their amazing intimate shows and last time they were in town, the show was sold out, so maybe you have an edge in catching this more unknown project by its former members. Around town there aren't a ton of live options, but Junior Brown plays at Belly Up and Dead Meadow appears at Blonde.

Monday, July 10:
Flood Coats, Rainstorm Brother, Exasperation @ Casbah
Junior Brown, Adrian Demain Trio @ Belly Up
Jeff Brinkman @ De Oro Mining Co
Unsung Genius: Trivia & Karaoke @ The Merrow
DJ Thug Wave @ Bar Pink
Makossa Mondays with DJ Tah Rei @ Seven Grand
Dead Meadow, Summer Knowledge, Amerikan Bear @ Blonde
James Ian @ Navajo Live
Kerry-Oke Pizza Party @ The Holding Company 1502
'80s with Junior theDISCOpunk @ The Brass Rail
Movie Night with Beau @ Pour House (Oceanside)
Metal Mondays @ Brick by Brick
Mercedes Moore @ Humphreys Backstage Live
Movie Madness @ Martini's Above Fourth
Electric Relaxation Chill '90s Hip-Hop @ Whistle Stop
Real Live Monday with Shane Hall @ El Dorado
Trivia with Shantih @ The Bancroft
Wheels of the Industry @ Live Wire
Open Mic @ Lestat's
Salsa Dancing @ Tio Leo's
Electric Waste Band @ Winston's
Acoustic Night/Industry Night @ Henry's Pub
Party on a Monday @ U-31
Rosemary Bystrak is the publicist for the Casbah and writes about the San Diego music scene, events and general musings about life in San Diego on San Diego: Dialed In. Follow her updates on Twitter or contact her directly.