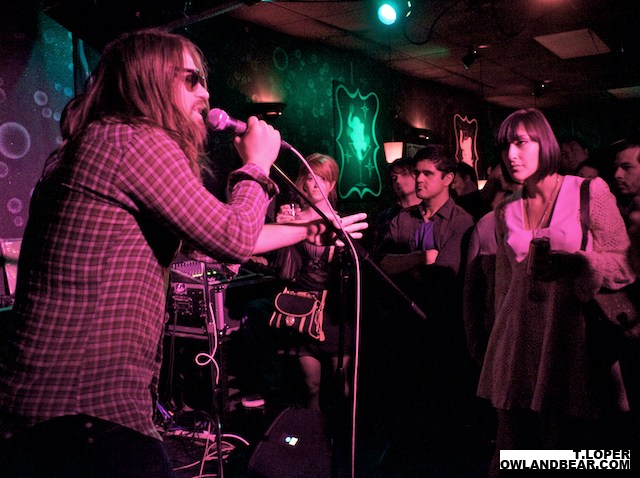 Let's rejoice, as the weekend is finally here. Hopefully you're online early to get your tickets to some of the amazing shows coming to town around Coachella dates. After you've furiously refreshed your browsers, get ready for the night. If you need, you can dance you're ass off at the Casbah with Chicago's Hood Internet, or if you're one of the people who jumped early, Bryson Tiller plays to a sold-out crowd at the Observatory. Our friends in the New Kinetics and the Nervous Wreckords will bring a party to Soda Bar -- and bring your bunny ears as Joshua Tree's Jessica Von Rabbit opens the show. The Belly Up has G. Love & Special Sauce, and Kabbs celebrate a record release at the Whistle Stop. That's a lot to choose from to really kick off the weekend in high gear.
Friday, Jan. 29:
The Hood Internet, Dino Soccio, KYWO, DJ Velvet Touch @ Casbah
Bryson Tiller, THEY. @ Observatory North Park (sold out)
The New Kinetics, the Nervous Wreckords, Jesika Von Rabbit @ Soda Bar
G. Love & Special Sauce, Ripe @ Belly Up
Kabbs (CD release), Kids in Heat and Sheila, the Rainbow Coloured Trash Bags @ Whistle Stop
Saving Abel, Kirra, Gunner Gunner, Born to Rise @ Brick By Brick
Grandtheft @ Parq
Stop Steve West' 80s Dance Party, with the Cured Live @ Music Box
Atomic Groove @ Belly Up (5 p.m.)
Calibrate Me (CD release!), Ascensions, Hox, Against the Odds, Aure, So Bored @ SOMA
Mods vs. Rockers, with Johnny Deadly Trio, Seatbelt @ Ken Club (early show)
Action Andy & the Hi-Tones, Marujah @ Ken Club (late show)
Christopher Hollyday Quartet @ Dizzy's
The Fictitious Dishes, the Fresh Brunettes @ Black Cat
The Boogie Down @ The Hideout
Caroline Corn, Avery, Sophia Bacino @ Lestat's
The Telegraph Quartet @ La Jolla Athenaeum
Jason and Toca @ Java Joe's (sold out)
Richard Cheese, Lounge Against the Machine @ House of Blues
Idlehands @ House of Blues Voodoo Room
Symbolic, Dolan Brotherhood, Malison, Kulteir @ The Merrow
Nena Anderson, Fireships @ The Pour House (Oceanside)
Lee Churchill @ U-31
Danny Green Group @ The Loft
"Open," the Band @ Tio Leo's
Diners, Kids, Holling, Adhesive @ Che Cafe
Sister Speak @ Humphrey's Backstage Live (5 p.m.)
Pop Vinyl @ Humphrey's Backstage Live (9 p.m.)
Flight 42, Mad Z & the Boones, Kitchen Creek @ Tower Bar
The Hathcocks, the Mandoshanks, the Yucks, Los Homeless, Sideshow @ Til-Two Club
Reflex @ Fluxx
FTampa @ Bassmnt
Treasure Fingers, Landis Lapace @ Bang Bang
Gareth Emery @ Omnia
Dee Lucas @ 98 Bottles
Soul Work @ Kava Lounge
Hazmat @ Gallagher's Irish Pub
Club Musae @ Boar Cross'n
Dazed and Confused @ 710 Beach Club
Rosemary Bystrak is the publicist for the Casbah, the content manager for DoSD, and writes about the San Diego music scene, events and general musings about life in San Diego on San Diego: Dialed In. Follow her updates on Twitter or contact her directly.