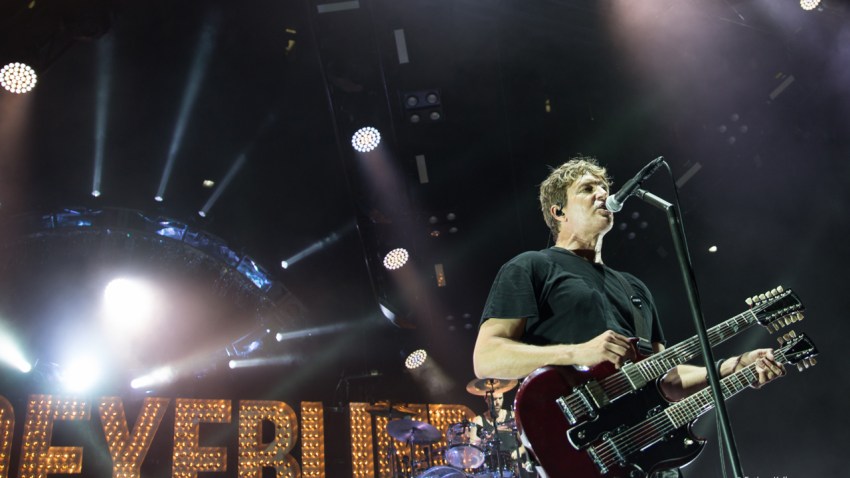 If you're up early (or still up from last night), today you've got a couple early morning options at Kava Lounge, Fluxx, and Spin. After you sleep off all of your revelry, some of our usual roundup venues are closed, but there are still choices, like the sold-out Third Eye Blind show at Observatory or a local Weezer tribute at Blonde. Of course, Electric Waste Band continue their streak at Winston's despite playing last night, or catch Oregon's the Macks at Bancroft Bar. Whatever you choose, we hope you kick off a most excellent 2018 and we look forward to spending the next year in music with you.

Monday, Jan. 1:
Third Eye Blind @ The Observatory North Park (SOLD OUT)

Weezer Live Tribute @ Blonde
Electric Waste Band @ Winston's
Electric Relaxation: Underground '90s, Chill Hip-Hop and Board Games @ Whistle Stop
Makossa Mondays with DJ Tah Rei @ Seven Grand
Dope House Music jams with 1904 DJs, HeavyBreathing, Andy Gomez, Dance Klassique, Rock the Discotek vs. Danger, Pro-K, Highlander, Jan Ozlanski vs. Memo Rex, Tow, Chris Lopez, Studio 79 vs. ?, Sotero, Hi Sol Recordings, Arthur @ Kava Lounge
The Macks (OR), the Roy Rockers @ Bancroft Bar (8 p.m.)
Musical Monday @ Martini's Above Fourth
Kerry-Oke Pizza Party @ The Holding Company 1502
80s with Junior theDISCOpunk @ The Brass Rail
First Friday Club @ Humphreys Backstage Live (2 p.m.)
Missy Andersen @ Humphreys Backstage Live (7 p.m.)
Dawn of the New Year @ FLUXX (Doors at 5 a.m.)
DJ Tennis + Harvard Bass @ Spin (Doors at 5 a.m.)
Wheels of the Industry @ Live Wire
Open Mic @ Lestat's
Acoustic Night/Industry Night @ Henry's Pub
Party on a Monday @ U-31
Rosemary Bystrak is the publicist for the Casbah and writes about the San Diego music scene, events and general musings about life in San Diego on San Diego: Dialed In. Follow her updates on Twitter or contact her directly.