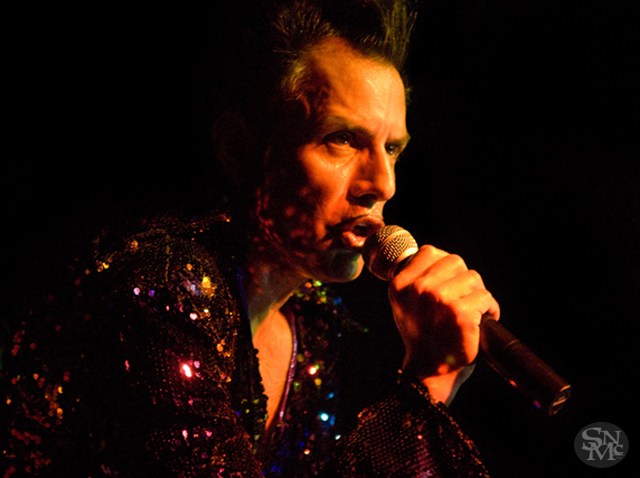 It's the last weekend before Christmas, and all your favorite venues are festively adorned with lights and decorations that should warm the soul of even the staunchest Scrooge. There are also a ton of really great shows, including El Vez's Christmas Extravaganza at the Casbah and Wayne "the Train" Hancock at Soda Bar for some real outlaw country. Bone Thugs-n-Harmony get down at the Observatory, and there's a pretty stellar songwriter showcase at Java Joe's. I'm not saying Jason Mraz will be there, but he dropped in last weekend, so hopefully he'll pop in again on Friday. For a real throwback, Rick Springfield plays a stripped-down acoustic set at House of Blues.
Friday, Dec. 18:
El Vez, Creepxotica, Baja Bugs, DJ Claire @ Casbah
Bone Thugs-n-Harmony, Nat-Z @ The Observatory North Park
Wayne "the Train" Hancock, Ypsitucky, Fanny & the Atta Boys @ Soda Bar
Martine & the Big Nativity Scene @ Bar Pink
Saba, Evan Bethany @ The Balboa
Through the Roots, Maoli, Bad Neighborz @ Music Box
Atomic Groove @ Belly Up (5 p.m.)
Flashback Holiday Party with BetaMaxx and GraceBand @ Belly Up
Crooked, Raymond the Sparrow, Hezekiah Bussey @ Black Cat
Geoffrey Keezer & Gillian Margot's Holiday Groove @ Dizzy's
The Routine @ The Rabbit Hole
F---ing in the Bushes @ Whistle Stop
Sarah Aili Band, Eric Erdman @ Lestat's
Songwriter Showcase, with Berkley Hart, Veronica May, Nathan Welden, Robin Henkel, M.E law, Bobo Czarnowski, and a surprise guest or two @ Java Joe's
Rick Springfield, Dauzat St. Marie @ House of Blues
Accept That You Have Suffered, Parade of Horribles, Big Goat, Snail Fight @ The Merrow
PunchCard, Just in Case, Roman Watchdogs, Midnight Track @ The Bancroft
The Snykes, the Bash Dogs, False Puppet, Essex Class, Pumphouse, Opt Out @ SOMA
Funks Most Wanted @ Tio Leo's
Teagan Taylor @ Croce's Park West
The Fabulous Ultratones @ Humphreys Backstage Live (5 p.m.)
Detroit Underground @ Humphreys Backstage Live (9 p.m.)
DJ Crooked @ Omnia
The Electric Waste Band @ Winston's
Elijah Ford, Trouble in the Wind, Billy Sunday @ Til-Two Club
Styles & Complete @ Fluxx
Shaun Frank, Erick Diaz @ Bang Bang
DJ E-Rock @ Parq
Seria Star @ Kava Lounge
The Village Squares @ Gallagher's Irish Pub
Matrixxman, Halo Varga, John Kabern, Louiv @ Spin
Coastal Frequency & Slower @ 710 Beach Club
Machine Head @ Ramona Mainstage
Rosemary Bystrak is the publicist for the Casbah and writes about the San Diego music scene, events and general musings about life in San Diego on San Diego: Dialed In. Follow her updates on Twitter or contact her directly.