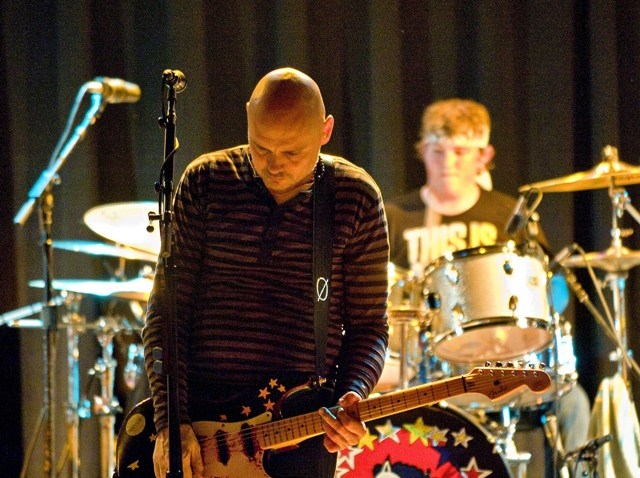 With recent ownership and management changes at 91X, the station has definitely upped the game in San Diego and is working to regain listeners who switched the dial over the years by rehiring former talent and making significant tweaks in their programming. Proving their worth tonight with their Wrex the Halls concert at SDSU, they've got legacy bands like Smashing Pumpkins, Jimmy Eat World and Bad Religion, who will be joined by newer bands like A Day to Remember and Anberlin, as well as one of San Diego's most successful bands, Switchfoot. t's a solid lineup that should please audiences of all ages.
Sunday, Dec. 12:
91X Wrex the Halls, featuring Smashing Pumpkins, My Chemical Romance, Jimmy Eat World, Bad Religion, Switchfoot, Anberlin, A Day To Remember @ Viejas Arena, SDSU
Brooke Fraser, Caitlin Crosby @ Casbah (sold out)
What Laura Says, Black Carl @ Bar Pink
Rose Winters and Buds' Spicy Swingin' Christmas @ Belly Up
Shapes of Future Frames, Hot Panda, Birdzilla, Swim Party @ Tin Can
Hard Fall Hearts, Mars Attacks, Johnny Deadly and the Rattlerockers @ Eleven
Sam Adams, Peace Treaty @ House of Blues
Joey Ryan, Kenneth Pattengale, Sweet Talk Radio @ Lestat's
Sidekicks @ Donovan's Circle of Fifths (5:30-8 p.m.)
Clay Davis @ Donovan's Circle fo Fifths (9 p.m.)
Cactus Jack's and Friends @ Winston's (6-9 p.m.)
Jose Sinatra's OB-O-ke @ Winston's
Tribe of Kings/Reggae Vibes @ U-31
Palomar College Jazz Ensembles, featuring Gilbert Castellanos @ Dizzy's (San Diego Wine and Culinary Center)
Shilts @ Humphreys Backstage Lounge Brunch (10 a.m. to 2 p.m.)
Shilts @ Humphreys Backstage Lounge
Raul Malo, Seth Walker@ Anthology (early show, 7:30 p.m.)
Memory Bank, featuring No_One, Yosef, & Moonship @ Kava Lounge
Cosmic Gate, Victor Dinaire, Michael Carter @ Voyeur
Reggae Sundays, featuring Shotta Crew @ Spin
Battle of the Bands @ Ramona Mainstage
Bohemian Rhapsody (open mic rap) @ Kadan
Mercado Golodrina, featuring art/crafts by Chikle, Selina Calvo, Ricardo Islas, Jim Ruland, and CRISOL. vendors: Chikle, Selina, Ricardo Islas, Jim, Sonia Lopez-Chavez, Crisol, Brown Sugar Creations, Wink Artisans and more @ Casa de Mariposas y Calacas (502 Rose Drive, National City)
Tinseltown: A Holiday Concert ... Hollywood Style, presented by San Diego Gay Men's Chorus @ Birch North Park Theatre
Mahler's "Resurrection" Symphony featuring Jahja Ling (conductor), Janice Chandler Eteme, Susan Platts, San Diego Master Chorale @ Copley Symphony Hall
Rosemary Bystrak writes about the San Diego music scene, events, and sometimes whatever creeps into her head on her music blog San Diego: Dialed In. Check it for even more listings. She also provides social media content for the Casbah. Follow her updates at twitter.com/sddialedin or submit your music listings.