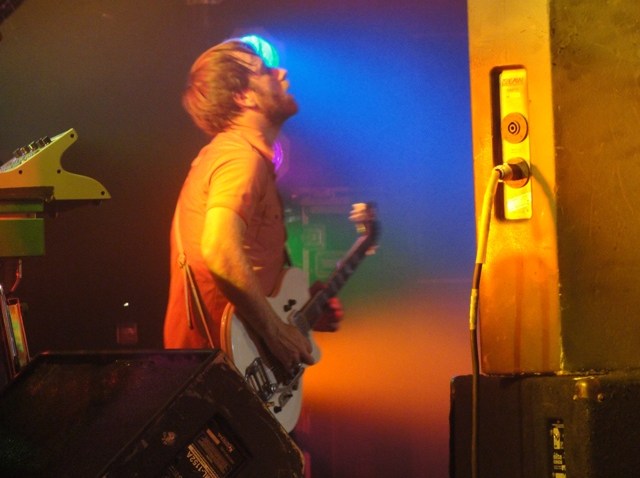 Local radio station FM 94/9 has assembled a stellar package of bands for tonight's Holiday Hootenanny at UCSD's RIMAC Arena. The Black Keys, who seem to love San Diego and have really shined since their latest, Brothers, was nominated for Best Alternative Music Album, Best Rock Song, Best Rock Performance by a Duo or Group, and Best Rock Instrumental Performance at the 2011 Grammys. They'll be joined by Against Me!, the Temper Trap, Sleigh Bells and Tokyo Police Club, all of whom had great releases and tours in 2010. If you're having a hard time forking $40 over for a show, you can support a SoundDiego favorite, Josh Damigo, as he celebrates his birthday at Lestat's.
Saturday, Dec. 11:
FM 94/9 Holiday Hootenanny, featuring the Black Keys, Against Me!, the Temper Trap, Sleigh Bells, Tokyo Police Club; with the Styletones in the beer pavillion @ Rimac Arena
Josh Damigo Birthday Show, featuring Josh Damigo, Mark Christopher Lawrence, Old Tiger, Rob Deez, Generik @ Lestat's
Big Sandy and His Flyrite Boys, Dave and Deke Combo @ Casbah
Sisu, Kevin Greenspan, Nicole Kidman, Ancient Krux, DJ set by Jules/Bambi/Sandy (Dum Dum Girls) @ Tin Can
Milk Crates, featuring DJs Mikey Face and Angie @ Bar Pink
SeenSD presents Depressed Buttons (DJ set, members of the Faint) @ Horton Plaza Events Center (RSVP required, 12-4 a.m.)
Joey Harris and the Mentals, Ghost Town Deputies, Harpco @ Eleven
Booty Bassment, featuring Dmitri & Rob @ Whistle Stop
Tori Roze and the Hot Mess (CD release) @ Ruby Room
Uniform Victor @ Ken Club
GFYSanDiego Release Party, featuring Pretty Too Bad, Roxy Jones, Primitive Noyes, DJ Meth Combz @ Soda Bar
As the Sun Sets Fire, Caresa with Parker Edison, Scribe Sayar, Six Nineteen @ Brick By Brick
Electric Waste Band, Help I'm Alive @ Winston's
Full Blown Stone, Fayuka, Sunny Rude, the Wiley One @ 710 Beach Club
The Higher, Flight to Athena, the Tyler Beach Project, Munson Keef, Just Like Scarlett, Gates @ Soma
Green Light @ Donovan's Circle of Fifths (5:30- 8 p.m.)
Lady Dottie and the Diamonds @ Donovan's Circle of Fifths (9 p.m.)
Keep-a-Breast/Breast Cancer Research Foundation present Add the Color, So Far Gone, Hundred Caliber @ Epicentre
Winter Dubstep and Electro Dance Party @ The Loft, UCSD
Christopher Dale and Friends Ugly Sweater/Toys 4 Tots show, featuring Podunk Nowhere, JD Boucharde, the Christopher Dale Trio, @ Handlery Hotel
Psychotropico, Razner @ Dreamstreet
San Diego's Great Guitars, with Mundell Lowe, Jaime Valle and Bob Boss @ Dizzy's (San Diego Wine and Culinary Center)
Hunt and Gather Holiday Party, featuring Mark E Quark, Jon Doss, Blackass, Dr. Indulgent @ 4496 Park Blvd #G
First Friday Gomango Kids Concert @ Humphreys Backstage Lounge (2-4 p.m.)
Rockola @ Humphreys Backstage Lounge (9-11p.m.)
Noches Rockeras, featuring Leyva and Dead 67's, the Pennant, Sunrop Electric @ 4th & B
Tinseltown, A Holiday Concert ... Hollywood Style presented by San Diego Gay Men's Chorus @ Birch North Park Theatre
USO and Harley Christmas Festival @ Kearny Mesa Harley- Davidson
Taryn Donath @ The Marble Room
Three Cord Justice, Evangenitals, DJ Chelu @ Gallaher's
Neon Dragon Lounge 2 Year Anniversary Pt. II @ Kava Lounge
Safety Orange @ El Cajon Grand
One Year Anniversary, featuring Ikah Love @ El Camino Little Italy
Junior theDISCOpunk @ Vin de Syrah
Homegrown Hemp Holidays Festival, featuring Bredren and Levi Wize @ World Beat Cultural Center
Zed's Dead and Bubble Gum Sci Fi @ El Dorado
Mowgli, Bareback DJs, ///Bones @ Voyeur
Club '80s @ Kadan
Bear Spin, featuring Paulo and Shane Stiel @ Spin
Battle of the Bands @ Ramona Mainstage
Irish Christmas @ Balboa Theatre
Art: Rare Properties by Shane Anderson @ The Periscope Project for Art + Architecture (6-10 p.m., 15th Street between J & K streets)
Mahler's "Resurrection" Symphony, featuring Jahja Ling (conductor), Janice Chandler Eteme, Susan Platts, San Diego Master Chorale @ Copley Symphony Hall
Carols By Candlelight, featuring Phil Vassar, Josh Gracin, Juice Newton, Buck Howdy, Danielle Tucker, Collin Raye @ California Center for the Arts, Escondido
Rosemary Bystrak writes about the San Diego music scene, events, and sometimes whatever creeps into her head on her music blog San Diego: Dialed In. Check it for even more listings. She also provides social media content for the Casbah. Follow her updates at twitter.com/sddialedin or submit your music listings.