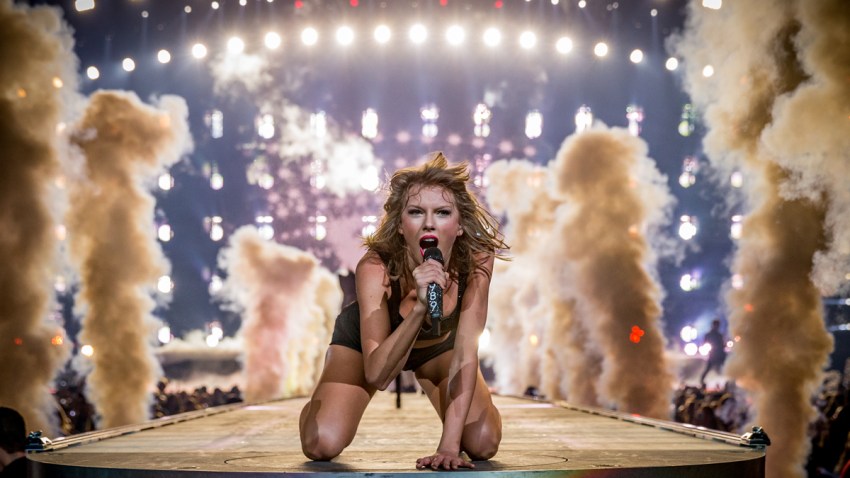 So little Miss Tay-Tay is in town. We've covered it extensively, so if you have tickets, congratulations, and don't forget your earplugs -- which you'll need to silence the screams of children, not for the music. For the rest of you looking for live music in town on Saturday, there are some free and cheap options that are noteworthy. With artists like Chunky Sanchez, R&B performer Goapele and Rebecca Jade & the Cold Fact, the Imperial Avenue Street Festival is a local street fair not to be missed, and definitely is at the top of the food chain of all the San Diego festivals for best food. Meanwhile, on the other side of downtown, the Brew and Food Fest takes over Waterfront Park, though on this brutally hot weekend, it will be disappointing to any families hoping to cool down in the fountains. By evening, Gingger Shankar continues a residency at Bar Pink, the English Beat play a sold-out show at the Belly Up, and the Casbah hosts San Diego Freak Out with five of the best frenetic bands around.
Saturday, Aug. 29:
Imperial Avenue Street Festival (12-8 p.m., free, all ages)
Brew and Food Fest 2015. featuring Down North, the Routine @ Waterfront Park
San Diego Freak Out, featuring Wild Wild Wets, JJUUJJUU, Muscle Beech, Shady Francos, Burning Palms @ Casbah
Gingger Shankar @ Bar Pink
The English Beat, Warsaw Poland Bros, DJ Unite@ Belly Up (sold out)
Vicetone @ Bassmnt
Glenn Thomas Band, the Bottled Spirits @ The Balboa
Geoff Muldaur @ AMSD
Fartbarf, the Stalins of Sound, Digital Lizards of Doom @ Soda Bar
Secret Society Scooter Club 32ns Anniversary, featuring the Hi-Tones, Los Kung Fu Monkeys, the Bassics @ Irenic
Downs Family, the Sidewalk Scene, the Joel Nowak Experience, Social Spit @ Che Cafe
Collie Buddz, Don Carlos, Marcia Griffiths, Inna Vision @ Junior Seau Pier Amphitheatre, Oceanside Pier
Josh Nelson & Tyler Blanton @ Dizzy's
Tribal Theory @ Embarcadero Park North
EC Twins @ Omnia
Cut Snake @ Bang Bang
Rock the House, featuring Ozzmania, the Blackout, Pyromania @ House of Blues
Groove International: Sound the Groove @ Voodoo Room, House of Blues
La Neta, with DJs Boogie Buba & the Office Twins @ The Hideout
Preston Morrill, Contrvbvnd, Gorilla Disco, Adam Bomb B2B Silent Riot, Grant Rebound, Zempra b3b Realzona @ SOMA
D.I., the Infidelz, Surrounded By Thieves, Dead on the Wire @ Brick By Brick
Community Center, Nick Crook, Jill and Kate @ Lestat's
Allegra Duchaine, Veronica May @ Java Joe's
Booty Bassment, with DJs Dmitri and Rob @ Whistle Stop
Sinners Rage, Unicorn Death, Too Fast for the Devil, Mohave Green, Bedlams Edge @ The Merrow
DJ Bodyrawk @ U-31
Nina Francis @ Croce's Park West (12 p.m.)
Afrojazziacs @ Croce's Park West (7 p.m.)
The Farmers @ Humphrey's Backstage Live
The Natives, Policias y Ladrones, Chango Rey & His Broken Heart Beat @ Tower Bar
Ocean Boogie @ Winston's
Raise the Guns, Eukaryst, Voice of Ruin, Monarch @ Til-Two Club
Adam Salter @ El Dorado
Savi @ Fluxx
Dante Fire @ Tio Leo's
Barely Alive, Astronaut, and Dodge & Fuski @ Somewhere Loud
Destructo Bunny @ Gallagher's Irish Pub
Triloc, LIVN, the I-Ways, Seedheads @ 710 Beach Club
Skynyrd's Innyrds, Artimus Pyle, the Cory Wilkins Band @ Ramona Mainstage
Martin Campbell meets Sergeant Pepper @ Spin
Rosemary Bystrak is the publicist for the Casbah and writes about the San Diego music scene, events and general musings about life in San Diego on San Diego: Dialed In. Follow her updates on Twitter or contact her directly.