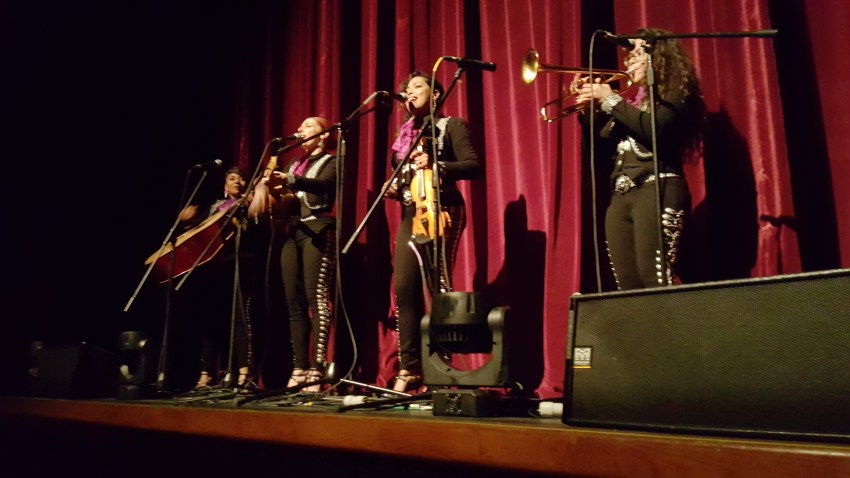 The first and only time I saw Flor de Toloache, they were opening for the Arcs, one of Dan Auerbach's other projects, at the Observatory North Park. Everyone was anxiously awaiting the band, and then an all-female mariachi band came out in front of the curtain and started playing. Mouths dropped to the floor. The performers not only sounded like a traditional mariachi band, but they played songs that were familiar, like Nirvana's "Smells Like Teen Spirit" or Led Zeppelin's "The Ocean." Tonight, they play at the Casbah and it should be a pretty special show. And speaking of the Casbah, the first time Rodriguez played in San Diego -- after the "Searching for Sugar Man" documentary and subsequent reissued albums were released -- was at the small venue, and just a few months later, he was selling out the North Park Theatre. Tonight, the man whose career was resurrected returns to Humphreys. Around town, the Alarm play a sold-out show at the Belly Up, Attila perform at the Observatory North Park, and improvisational jazz saxophonist Gabriel Sundy is back home in San Diego with a show at Panama 66.
Thursday, Aug. 23:
Flor de Toloache @ Casbah
Rodriguez, Vera Sola @ Humphreys Concerts by the Bay
The Alarm, Manual Scan, Julia Othmer @ Belly Up (SOLD OUT)
Attila, Suicide Silence, Volumes, Rings of Saturn, Spite, Cross Yo @ The Observatory North Park
Gabriel Sundy Trio @ Panama 66
Flynt Flossy & Turquoise Jeep, the Parker Meridien, Jumbotron @ Soda Bar
Restraining Order, Drug Control, Dare, Absence Of Mine, Spirited @ The Che Cafe
BrokenBeat Night SD @ Space (9 p.m.)
Anderson East, Los Colognes @ Dive, Harrah's SoCal Resort
Live Music Thursday Nights @ Lafayette Hotel, Swim Club & Bungalows
Sarah Cranberry, J Cush, Skandar, Omega Squad @ Blonde
The Grifters @ La Jolla Athenaeum
Gregory Page @ Java Joe's
Summer Beach Party with the Mar Dels @ Bahia Hotel (6-9 p.m.)
Robert Allen Shepherd @ Crossroads, House of Blues
Bumpasonic @ Humphreys Backstage Live
Bit Brigade: The Legend of Zelda, Kirby's Dream Band, Extra Lives @ Brick by Brick
An Evening of Jazz with Betty Bryant @ Martini's Above Fourth
Jimmy Ruelas @ Seven Grand
Thursday Evening Swing with New Orleans Swinging Gypsies @ Queen Bee's
Go Ask Alice @ Bancroft Bar
Katastro, Tyrone's Jacket, Aloha Radio @ Music Box
Open Jam Session @ Winston's (6-9 p.m.)
Yvad, Yuma's Rastaman Rob, Psydecar & the Proj3ct! @ Winston's
No Limits with DJMysonKing @ The Office
Drake White & the Big Five @ Moonshine Flats
Matchbox Twenty Too @ Moonshine Beach
The Loosen Up with DJ Mane One @ El Dorado
Bugz in the Attic, Mark de Clive-Lowe + more @ Kava Lounge
Open Jam with Jeff Ousley @ Navajo Live
Blue Largo @ Tio Leo's
DJ Yodah @ Henry's Pub
Rosemary Bystrak is the publicist for the Casbah and writes about the San Diego music scene, events and general musings about life in San Diego on San Diego: Dialed In. Follow her updates on Twitter or contact her directly.