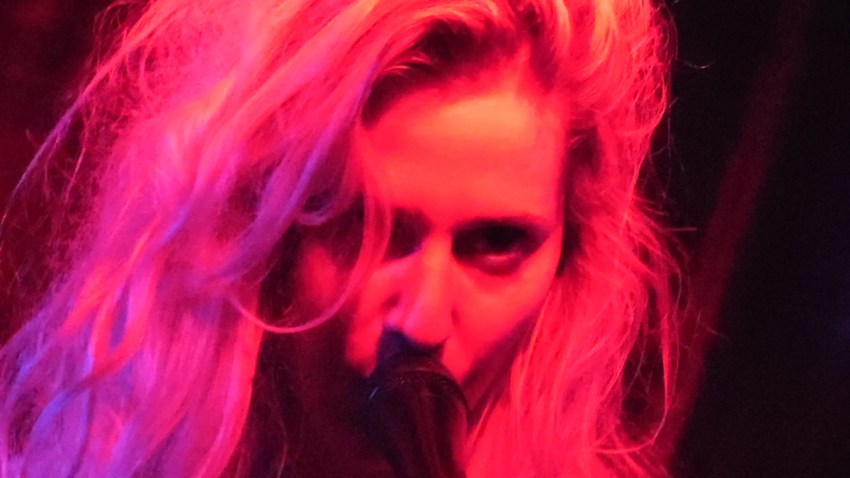 We have had so much fun spending our summer nights at Harrah's Resort Southern California, and tonight we wrap our SoundDiego Summer Splash with the double-doozy of Bully and the Donkeys. So I guess I have to eat my words a little when I said they hardly ever play in town. While that mostly remains true, they not only played the Casbah last week, but they're also playing our party, which is extra special to us. And what can we say about Bully? They're awesome, they totally rock and anyone who uses gender modifiers to describe them isn't trying hard enough. This is gonna be one for the books. If you can't make it to Valley Center, David Bazan plays the Casbah, the Used play their second night at the Observatory and Turnover play the Irenic.
Saturday, Aug. 20:
SoundDiego Summer Splash: Bully with the Donkeys @ Harrah's Resort SoCal
David Bazan, Michael Nau @ Casbah
Digable Planets, Camp Lo @ Belly Up (sold out)
The Used, New Language @ Observatory North Park
Tiki Oasis @ Crowne Plaza Hotel
Sip 'n' Ship Craft Beer Festival @ Maritime Museum of San Diego
Turnover, Angel Dust, Triathlon @ The Irenic
Chula Vista Harborfest @ J Street Marina
Pears, Direct Hit!, DFMK, Pissed Regardless @ Soda Bar
Blonde Bar Grand Opening Party @ Blonde Bar (formerly Bar Dynamite)
Summergrass Bluegrass Festival @ Antique Gas & Steam Engine Museum, Inc., Vista
Neon Beat: The Best and Worst of the '80s @ Bar Pink
Stardeath & White Dwarfs, Noble War, Wild Wild Wets, Spero, Some Kind of Lizard, the Art Dealers @ Avo Playhouse, Vista
Tainted Love, DJ Steve West @ Music Box
Shawn Rohlf & the Buskers @ Whistle Stop (5 p.m.)
'80s vs. '90s with DJs Gabe Vega and Saul Q @ Whistle Stop
Russell Peters @ Humphreys Concerts by the Bay
National Lemonade Day @ Quartyard
Green Today, These Killers, White Elephant @ House of Blues
CJS Quintet @ Dizzy's
Body of Light, Jock Club, the Victoriana, DJ Jon Blaj @ The Hideout
Amy Grant @ Embarcadero Marina Park South
Sir Coyler & His Asthmatic Band, the Dumps, Cochinas Locas @ Tower Bar
Rock the Art OB with the Simpkin Project, Piracy Conspiracy, City Reef, Dubbest, SoCal Vibes, DJ Carlos Culture @ Winston's (3 p.m.)
DJ Unite, Viejo Lobo @ Til-Two Club
Fanny & the Atta Boys @ Black Cat Bar
Electromagnetic, Ninos de la Tierra @ The Bancroft
Hulu Summer Roadtrip feat. the Broken Stems @ Ruocco Park
Aghori, Contortion, Big Goat, BeeKeeper @ Brick by Brick
Eutopia @ California Center for the Arts, Escondido
Son of a Deez, the Father, the Brothers Burn, Uncle Leo @ Lestat's
Ash Jetson, Hidden Kings, Kaya, Dork the Ghost, F.I.L.T.H.Y., Sly Disciple @ Soma
Popvinyl @ V Lounge, Viejas Casino
Liquid Blue @ The Park, Viejas Casino
The Buttertones, Buddha Trixie, Wild Wing, Drench Fries @ Che Cafe
Ruines Ov Abaddon, Ashen Earth, Mythraeum, Mortar @ The Merrow
Tunnel Vision, Resinated, Perro Bravo @ 710 Beach Club
Gods of Thunder (Kiss Tribute) @ Tio Leo's
Detroit Underground @ Humphreys Backstage Live (9 p.m.)
Adam Salter @ El Dorado
Chachi @ Fluxx
Danny Avila @ Bassmnt
Viscous @ Atomic
Hobo @ Bang Bang
Egadz, Skrapez @ Kava Lounge
Rockstar Saturdays @ Henry's
Rosemary Bystrak is the publicist for the Casbah, the content manager for DoSD, and writes about the San Diego music scene, events and general musings about life in San Diego on San Diego: Dialed In. Follow her updates on Twitter or contact her directly.