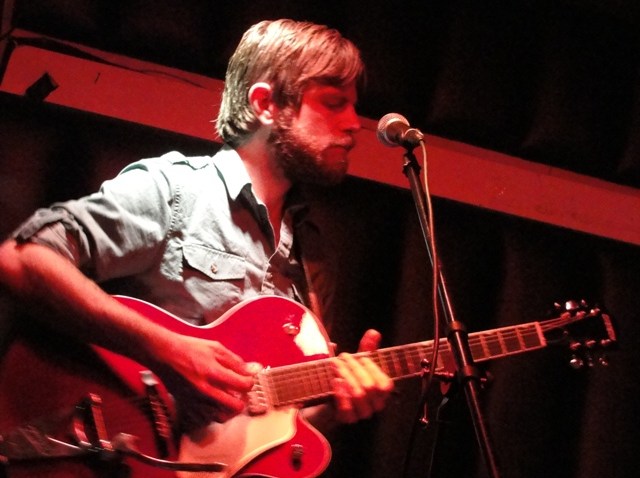 It's hard to believe that it's just a regular August night in San Diego when there are so many incredible shows to catch. Down the line from Guided By Voices and Broncho at Belly Up, James Supercave at the Hideout, Chastity Belt at the Casbah, Us the Duo at House of Blues and even Marilyn Manson and Slipknot at Sleep Train Amphitheatre, there are a lot of shows available for the picking -- but there's one that has me super excited. Joshua James is one of my personal favorites. I remember seeing him for the first time at the Casbah -- his intensity, his voice, his way of going from really quiet moments to loud that make your whole body feel his songs -- and it's breathtaking, really. His music was picked up by "Sons of Anarchy" and used in their promo reels as well as on their soundtrack. This tour is also pretty special as he and his buddy Timmy the Teeth have bikes in tow as they play a series of house shows, studios, and non-traditional spaces. The two appear at Moniker Warehouse for an all-ages show. It's suggested you bring some cushions to sit on and enjoy the show. I wouldn't miss it for the world.
Wednesday, Aug. 17:
Joshua James, Timmy the Teeth @ Moniker Warehouse
Guided By Voices, Broncho @ Belly Up
James Supercave, Bad Kids, Pueblo @ The Hideout
Chastity Belt, So Pitted, Teach Me @ Casbah
Slipknot, Marilyn Manson, Of Mice & Men @ Sleep Train Amphitheatre
Courtney Marie Andrews, Jonathan Rice, Saba @ Soda Bar
Us the Duo, Gardiner Sisters @ Voodoo Room, House of Blues
Tribute to Tupac and Nate Dogg feat. Monuments and DJ Artistic @ Bar Pink
Gilbert Castellanos Young Lions Series & Jazz Jam @ Panama 66
Geneva Bedlam (CD release), the Hype, littlecoaldove @ The Merrow
Modern Profession presents Film Punch on "The Notebook" (MST3K style) @ Whistle Stop
The Smashup with DJ Carlos Culture @ Winston's
Knockout Kid, Settle Your Scores, With Friends Like These, Hard to Hit plus guests @ SOMA
Belphegor, Origin, Shining, Abigail Williams, Dizaster Inc, Gravespell @ Brick By Brick
Old Order, Cher's Missing @ Lestat's
Veronica May @ Java Joe's
Karaoke with Cici @ The Bancroft
Tropical Wednesday with DJ Mo Lyon @ U-31
Open Mic with Jefferson Jay @ Winston's (6-9 p.m.)
Woking Class Wednesday @ Tower Bar
Walter Gentry @ Humphreys Backstage Live
WTF Wednesday @ El Dorado
RoQy Tyraid live plus special guests @ Kava Lounge
Open Mic/Open Jam @ 710 Beach Club (7-10 p.m.)
Young Vinyl @ 710 Beach Club (10 p.m.)
Ride the Mule @ Henry's Pub
Rosemary Bystrak is the publicist for the Casbah, the content manager for DoSD, and writes about the San Diego music scene, events and general musings about life in San Diego on San Diego: Dialed In. Follow her updates on Twitter or contact her directly.