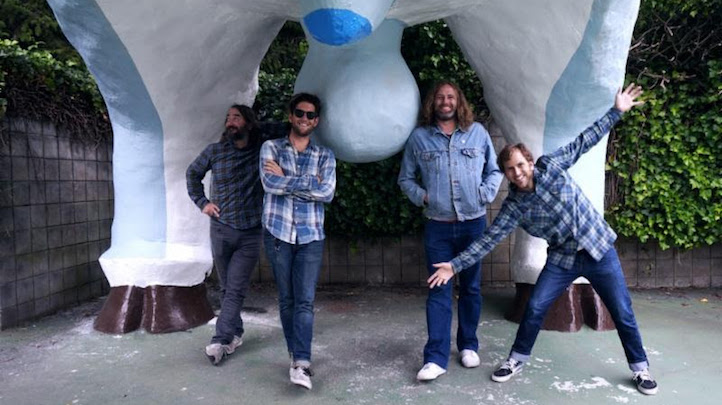 There are supposedly four seasons a year, but in San Diego sometimes you wouldn't really know it. There's also a little known calendar that marks the change of seasons: the Donkeys perform a local show. It usually only happens three or four times a year, but it's always a momentous occasion. Old friends and new congregate at the Casbah for the fun show, and it always sells out, so get there early if you haven't purchased a ticket yet. Meanwhile, there's stuff all over town, including a sold out show with the White Buffalo at the Belly Up. Steve Martin and Martin Short are at Harrah's, Seth MacFarlane does showtunes with the San Diego Symphony and Tiny Stills and Kali Kazoo play a live show at Bar Pink. That's a lot of bang for your buck on Saturday night.
Saturday, Aug. 13:
Artwalk Liberty Station with Wayne Riker, Shelbi Bennett, Dani Bell & the Tarantist @ Liberty Station
The White Buffalo, Alice Drinks the Kool Aid @ Belly Up (sold out)
The Donkeys, Heavy Hawaii, Hills Like Elephants @ Casbah
Steve Martin and Martin Short @ Open Sky Theater, Harrah's Resort Southern California
Seth MacFarlane @ Embarcadero Marina Park South
Tiny Stills, Kali Kazoo, the MilkCrates DJs @ Bar Pink
Young Dolph with Cap1 @ Music Box

The Observatory North Park

Grampadrew's Flim Flam Revue @ Whistle Stop (5 p.m.)
First Hate, Grand Prix, Nylon Apartments, DJ Jeff Terich @ Soda Bar
Mira Mesa Festival of Beers 2016 with the Routine @ Mira Mesa Rec Center
KAABOO Discovery Tour with Todo Mundo, Brad Perry @ Music Box
The Heart Beat Trail, Super Buffet, Crow Squawk @ Black Cat Bar
Kat Myers & the Buzzards @ Seven Grand
Sometimes Julie, Wag Halen, Innocent Bystanders @ The Merrow
Jason Aldean, Thomas Rhett, A Thousand Horses @ Sleep Train Amphitheatre
The Powerhouse Quintet @ Dizzy's
Jackie Venson @ Grassroots Oasis
Booty Bassment with Dmitri & Rob @ Whistle Stop
Led Zepagain, Fooz Fighters @ House of Blues
Sound the Groove @ Voodoo Room, House of Blues
Boogie Down with Cookie Crew & Friends @ The Hideout
Hoodstock Festival: Bipolarte, Steel Toe, Loud on Mute, Mandoshanks, Dethsurf, Catshit @ The Bancroft
Ain't Misbehavin': The Fats Waller Musical Show @ California Center for the Arts Escondido
Easy Wind @ Winston's (5 p.m.)
Ocean Boogie @ Winston's
Rossi Rock, Bdotwatt, YMTK @ Til-Two Club
Ratt's Juan Croucier, Aerosmÿth, VacScene @ Brick by Brick
StrictlyBusiness w/DJs Kanye Asada & Gabe Vega @ The Office
Tony P, Samer Bakri, Maddie Leigh, Amy Obenski @ Lestat's
Songwriter Showcase @ Java Joe's
Reggae SummerSplash 2016 with Ranking Joe, Dezarie, Alika & Nueva Alianza, Rob Symeonn, Hempress Sativa, Prof I, Ronnie Benjamin @ World Beat Center
Roots of a Revival, Disciples of the Canyon, Struble With Another Taste, Lee the Fourth & Joshua Odessa @ 710 Beach Club
Bless Your Heart Burlesque @ Tio Leo's
The Reflectors @ Humphreys Backstage Live (5 p.m.)
Wildside @ Humphrey's Backstage Live (9 p.m.)
Reflex @ Fluxx
Butts Ta Nuts with Jason Waterfalls, Abjo, Julz @ El Dorado
DJ Vice @ Omnia
Rockstar Saturdays @ Henry's
Casa Del Gato @ Kava Lounge
Rosemary Bystrak is the publicist for the Casbah, the content manager for DoSD, and writes about the San Diego music scene, events and general musings about life in San Diego on San Diego: Dialed In. Follow her updates on Twitter or contact her directly.