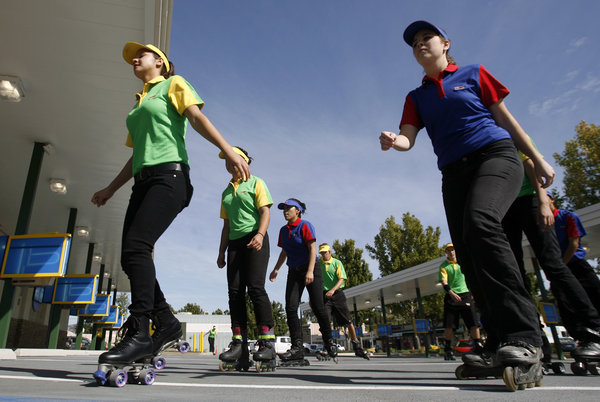 The popular eatery opens another franchise in North County.

Sonic opened a drive-thru Monday at the corner of Santa Fe Avenue and Main Street in Vista. One of the franchise's owners said he expected to serve about 4,000 people on Monday alone.

The fast food chain has been popular in Texas for years but has only recently begun to open locations in Southern California. Sonics are throwbacks to 1950s drive-ins, with no indoor dining. Customers can congregate on patios or order via car-side intercoms and roller-skating servers deliver their food.

The new restaurant, which serves such menu items as Cherry Limeades, Tater Tots and Extra-Long Cheese Coneys, adds 120 new jobs to Vista's economy.

"This is a great '50s style drive-in," said customer Michael Haas. "In 'n Out, eat your heart out."

In addition to Vista's, there's a Sonic in Santee; a third location will probably pop up within the next year, according to the franchise's co-owner.