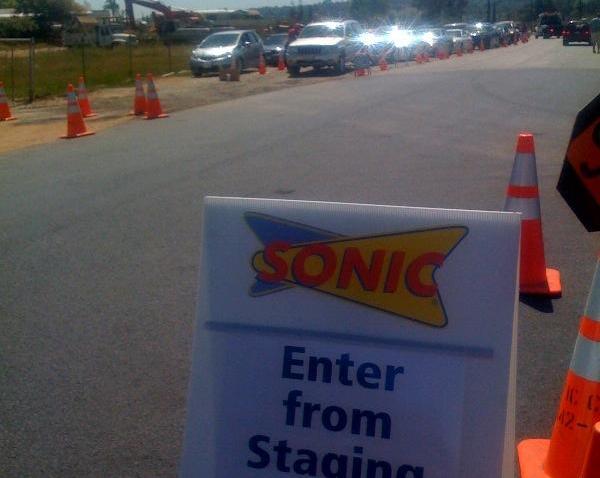 Traffic was heavy Monday at San Diego's newest favorite dining spot.
A VIP and ribbon-cutting event with the Santee Mayor Randy Voepel was held Saturday, and on Sunday, friends and family were invited to a training day to help new Sonic crew members sharpen their skills. The public finally got their bite at the burger on Monday, and they had plenty of competition for food at the location in the 10500 block of Mission Gorge Road in Santee.
Customers reportedly began lining up at 6 a.m., waiting four hours to order. When the eatery opened at 10, there were 125 lined up, the San Diego Union-Tribune reported.
At Sonic, customers park in their own drive-in stall and push a red button on the menu board to place orders from their car. (How cool is that?) Carhops then deliver orders to customers in their cars or sitting on the patio.
Does that make you hungry? The drive-in is open from 10 a.m. to 11:30 p.m., April 6-12. Starting next Monday, the drive-in will be open from 5:30 a.m. to midnight.
Customers who order a bacon cheeseburger with onion rings and a cherry limeade get a surprising "side" that may go unnoticed: According to the Sonic nutritional chart , a large combo of those three items would set you back 1,760 calories.
There is a wide range of factors in determining how many calories one should consume on a daily basis, but in England, the government suggests the following figures for people maintaining their weight: 2,500 calories a day for men and 2,000 calories a day for women.
If you're truly counting the calories, you may want to avoid Sonic's 20-ounce Peanut Butter Shake, which at 1010 calories, takes the Sonic prize for most caloric item on the menu.
While, everyone deserves to splurge now and again, health experts recommend against frequent fast-food visits. Researchers increasingly point a finger at fast food chains in general for their role in America's obesity epidemic.
Sonic enthusiasts looking for healthier alternatives might try a grilled chicken salad (310 calories) or a Sonic burrito (370 calories).
Copyright X- UGCDGO - Gloto DGO