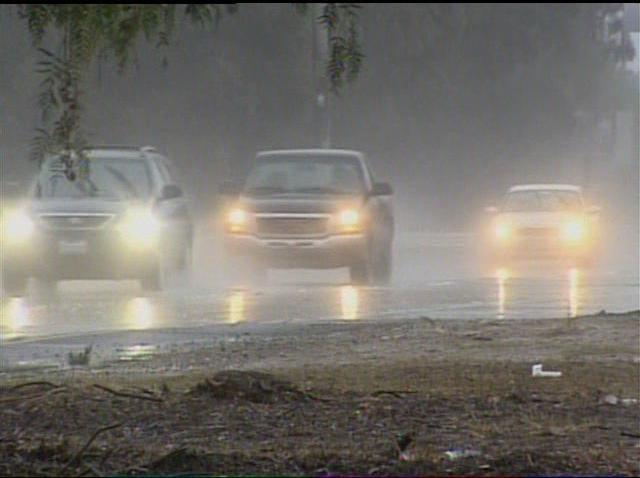 San Diegans will see more rain than sun this week thanks to the series of winter storms moving ashore.
A flash flood watch is in effect starting at noon Monday through Wednesday afternoon for the San Diego coastal areas, deserts and mountains.
The National Weather Service (NWS) is forecasting rain will be heavy at times Monday and Tuesday with thunderstorms possible Wednesday.
As of 9 a.m. Monday, the county reported the following closures: In Spring Valley, Quarry Road was closed at the dip and in san Marcos, Harmony Grove was closed at Country Club dip.
The California Highway Patrol was called out to the East Grade Road just north of SR 76 around 10 a.m. Monday after the report of large boulders in the roadway.
Close to 80 accidents were reported before noon Monday, according to the CHP incident page.
A steady weekend soaking has left parts of California awash with flooded roadways.
A scenic stretch of Pacific Coast Highway between Malibu and Oxnard has been closed because of a rock and mudslide as record rains soak Southern California.
The California Highway Patrol says PCH was shut down at about 8:10 p.m. Sunday because of the slide near the border of Los Angeles and Ventura counties some 40 miles west of downtown Los Angeles. No one was hurt.
There's a CHP roadblock at Kanan-Dume Road and PCH in Malibu and at Las Posas Road and PCH in the Point Mugu area. It's unclear when the highway would reopen.
The weather service said rainfall accumulation could reach 20 inches in some isolated locations by Wednesday, when the first phase of the storm is expected to pass. After a brief respite, it is forecast to return late Christmas Day.
The system hit the state after a large storm front moving out of the Gulf of Alaska met with subtropical, moist air coming across the Pacific Ocean.
The NWS said Sunday's rainfall records include 3.45 inches in Pasadena, 3.2 inches in San Gabriel and 2.3 inches in downtown Los Angeles.
To report flooding issues call San Diego County's Storm Water Hotline at 888 846-0800.