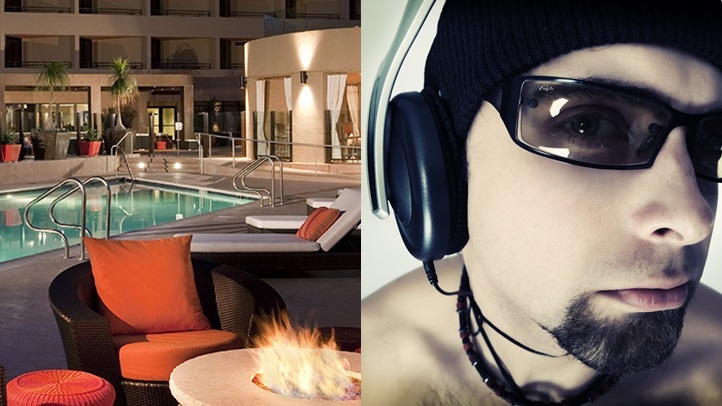 CLASSIC POOL PARTY, LOW VOLUME: Never let it be said that social scenes are static entities with structures that remain stagnant and unchanging and resistant to change. Case in point: The silent DJ party. Just when you -- and everyone else who keeps a tab on trends -- might have thought that a DJ-led music bash was full of thump and volume an ever-so-cool, hotel-cool happening, one that the Palm Springs Hyatt is adopting over several summer Sundays, the first hotel in the region to do so. So what's a silent DJ party? It's where guests gather in an area -- the pool is a pretty chic choice -- over an evening -- Saturday is also chic, as days of the week go -- and don, in unison, wireless headsets.
THOSE HEADSETS... will be tuned into what the resident DJ is spinning live, just across the pool from you, but rather than sending those big, booming vibes into the nearby hotel rooms, they'll stay tucked within your ears, for you, and your fellow attendees, to enjoy. If you need a brief rest from what's happening at the turntables, you can switch over to another channel which includes "a different playlist available for party-goers." Dressing for a fabulous pool party in your warm-weather maxi-dress-board-shorts best? That won't change, even though the party's gone quieter; the feel is still kind of a fashion-fun, DJ-centered scene. Cocktails, misters, and cool towels are the scene-ready accouterments.
SATURDAY, JUNE 20... was the first silent DJ of the season at the desert resort-based Hyatt, but there are a few more to come, on July 4, Aug. 8, and Sept. 5. The times? Be at the pool from 8 to 11 o'clock. The people-watching? Pretty great, especially if you slip your headset off and watching revelers dancing to the music they're hearing but you, for the moment, are not. The benefit for hotel guests not attending the get-together? Way more quiet than if a few big speakers lined the outdoor area. The benefit for party people? The chance to bond, via headset and a new, unusual experience, with other people digging the tunes and different scenario. If you've been to a booming pool bash, call the Palm Springs Hyatt's take a through-the-looking-glass version.
Copyright FREEL - NBC Local Media