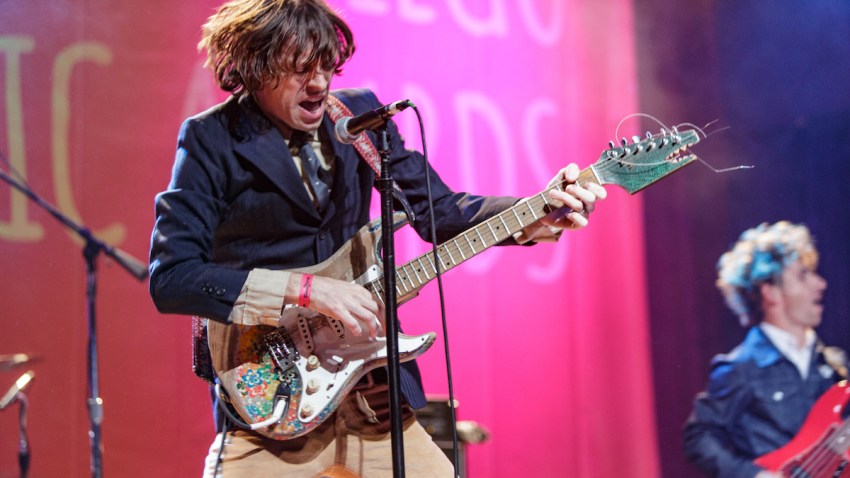 They might just be San Diego's most prolific band when it comes to performing live, and they're finally back in business after their European tour -- the Schizophonics headline Sonic San Diego, a new show series presented by Vinyl Junkies and Casbah, at Broadstone North Park Apartments (4224 Texas St.) on Saturday, Aug. 25, from 4-7 p.m.
Admission is free with RSVP (sounds familiar), and there will be food, drinks and a pool. Wait what? Spa day with the Schizophonics and DJs Mike & Anja Stax (of the Loons and Ugly Things)? Apparently.
To top it all off, the event will benefit the Media Arts Center, and there's also going to be a huge after party. From 7-9 p.m., DJs Ian Utero & Camilla Robina will be busting moves at Live Wire.
This will be somewhat of an inaugural show for the Schizophonics, who are kicking off the entire SouthNorte Beer Co.-sponsored Sonic San Diego concert series.
See below for a full list of all upcoming Sonic San Diego shows.
Saturday, September 15: Brian Karscig performs Louis XIV, Convoy and the Nervous Wreckords at Broadstone North Park Apartments, featuring DJ Ian Utero and after party DJs Riley Hawk & Shea Cooper at Live Wire.
Saturday, September 29: Creepxotica with DJ Tony Suarez at Broadstone North Park Apartments, featuring DJ Claire at the Live Wire after party.
Saturday, October 27: Wild Wild Wets at Broadstone North Park Apartments, featuring DJ Andrew McGranahan and after party DJ Victor Penalosa (of the Zeros) at Live Wire.
Rutger Ansley Rosenborg has been an Associate Editor at NBC SoundDiego since 2016. Find out more here, or contact him here.