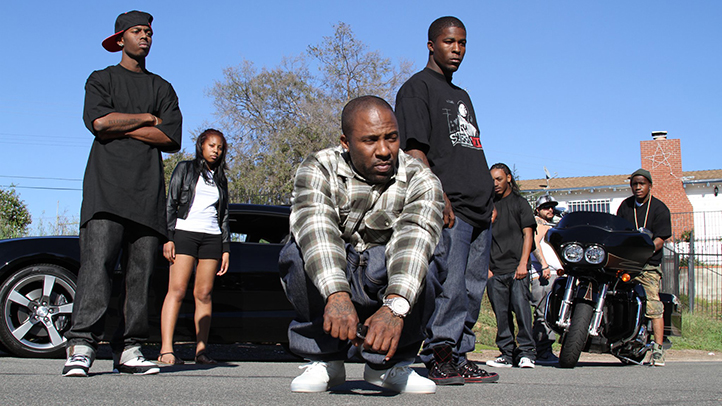 The rap artist known as Mitchy Slick, who is accused of kidnapping a Southern California woman and holding her in a San Anselmo home, turned himself in this week after a judge issued a $1.5 million warrant for his arrest.
Slick, who's given name is Charles LaSean Mitchell, grew up in San Diego and attended Lincoln High School. He is eing held on kidnapping, human trafficking, pimping, pandering and porn charges, according to a spokeswoman for the Marin County Jail. She added that he was also booked on charges of being in a criminal street gang, exhibiting a firearm and making terrorist threats.
Marin County Chief Deputy District Attorney Barry Borden said on Thursday that Mitchell had not been formally arraigned and the "case is under review," meaning that prosecutors are reviewing the police reports to determine what, if any, charges would be filed.
Reaching Mitchell's defense attorney was not immediately successful. Borden said he did not know who was representing the rapper.
Pittman said the 40-year-old is suspected of being an active member of the Lincoln Park Bloods gang in San Diego. The gang, Pittman said, has a history of drugs and weapons violations, pimping, as well as assaulting and killing police officers.
Sheriff's office officials had previously conducted a search warrant at 30 Oak Knoll Drive in San Anselmo, where Mitchell was allegedly staying with the woman in question, but Mitchell wasn't there and had been "at large" until Tuesday. San Anselmo is a small town about 20 miles north of San Francisco.
Lt. Doug Pittman told the Marin Independent Journal that Mitchell took the woman from Southern California and allegedly held her captive in San Anselmo. Pittman did not tell the paper the age of the woman, the length of time she was allegedly held or how investigators became aware of the alleged kidnapping.
His exact connection to the property remains unclear, officials said.
Former SoundDiego blogger Quan Vu called Slick the "San Diego rap godfather" and wrote in San Diego City Beat that the city's "most famous rap export" had a gang injunction issued against him in 1999 by the San Diego City Attorney's office.
Slick release a self-titled debut in 2001, then began an eight-year hiatus from solo projects in 2005. He was still creating music during that period, however, including the album "Stereotype," by his group Strong Arm Steady, which came out in 2011. Last year, Slick ended the drought, dropping mulitple releases, including "Feet Match the Paint" and "Won't Stop," which was originally titled "Won't Stop Being a Blood." He has been nominated for a 2014 San Diego Music Awards as Best Hip-Hop Artist and for Best Hip-Hop Album, for "Call of Duty (South East Edition)," and its songs like "Coulda Been You" and "Get Away" that reflect his gangster roots and stories of urban survival.
Slick is scheduled to appear in court on Thursday.
Bay City News contributed to this report.