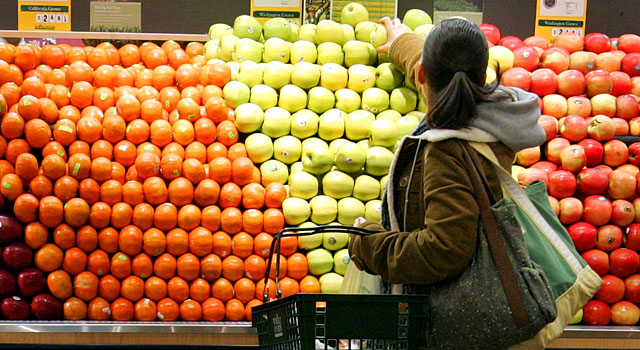 A San Diego grocery co-op called Golden Share Foods says it can save you as much as 50 percent on your grocery bill every month.
"It's a one-stop shop -- you get everything you need," said Navy wife and mom of two Jennifer Nguyen. "Quick and easy, that's what works."
Executive Director Corey Russo said that in this tough economy, the co-op sees people from all walks of life, from senior citizens who rely on Social Security checks to single mothers to families facing unemployment.
"They're able to pay their bills and stock their freezer, and still have a little money left over for their personal needs," Russo said.
Russo's father, Drew, has been a produce buyer in San Diego since 1971, and the family run business is aimed at helping others.
"We have a great passion to help people out, and I believe that's what we're doing here," Russo said.
Golden Share Foods is open to anyone, with no membership fee and no eligibility requirements. The warehouse is in El Cajon, and there are also 60 distribution sites throughout Southern California.
Customers pre-pay for their orders. The basic monthly grocery package costs $27. In December, that package will include three pounds of chicken breasts, one pound of ground beef, one pound of ground turkey, 2.5 pounds of pork tenderloins, a block of cheddar cheese, a broccoli bunch, a bag of Yukon potatoes, two grapefruits, a bag of onions, a pound of carrots, two zucchini, a head of Romaine lettuce and five pears.
"You can get meat packets, or you can get fruits and vegetables, and I think it works out good for a big family," said customer Lourdes Villa.
Golden Share Foods said buying in bulk is key, and so is the volunteer base.
"Everyone here helping out are pretty much volunteers, so that keeps the overhead cost down," Russo said.
Volunteer Scott Humberstone was laid off from his job in the hospitality business last winter and said working at the Golden Share Foods warehouse helps him stay active and feel productive.
"It's helping me as much as I'm able to help them, so I'm really grateful to be doing this," Humberstone said.
Customers said the only catch is having to be available to pick up the groceries at the set time.
Bobby Harris picks up the grocery packages for his elderly mother.
"It helps out, especially with my mother," Harris said. "She doesn't have that much money. She's stuck in a wheelchair. We're able to get this, and it sets her up for the month. and it's wonderful."